Liking these posts? Follow us on Twitter or like us on Facebook — this is the edited version of what we're reading! (We also Tweet if we hear about a good sale.)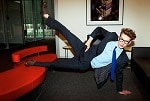 – We are loving this NYT photo shoot inspired by a book from 1908 that came with a section, "50 Exercises to Do With Your Suit On."  Awe. Some.
– Styleite does a breakdown of Sarah Palin's four favorite suit jackets.
– YouLookFab has some great tips on how to wear belts.
– Watch out for those makeup testers at Sephora!  The LA Times has the scoop.  Meanwhile, for those of you who get frustrated at your manicure chipping, the NYT has a nice article on a new gel/polish hybrid that lasts for up to two weeks.
– You might also want to watch out for web coupons — the NYT warns that they tell stores way more about you than you realize.  Finally:  the Bucks Blog has tips on how to find a financial planner.
Many thanks to this week's advertisers:
– AK Anne Klein
– Carissa Rose
– MySkins
– MyDesignGuide.com
– As well as our advertisers through BlogAds!