Liking these posts? Follow us on Twitter or like us on Facebook — this is the edited version of what we're reading! (We also Tweet if we hear about a good sale through our CorporetteDeals Twitter feed.)
–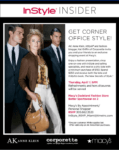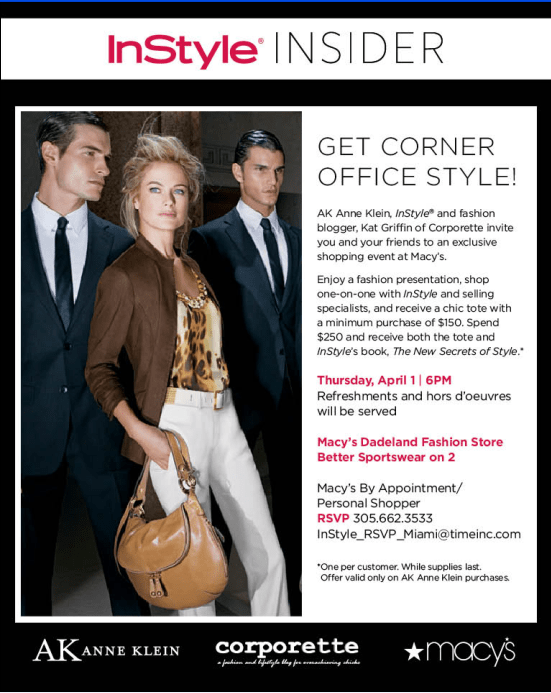 Reminder to all those in or near Minneapolis — we'll be at the Southdale mall in Edina from 1pm to 3pm tomorrow (at the Macy's) to help AK Anne Klein and InStyle celebrate Corner Office Style. Please come out and join us! you can RSVP by calling 1-800-329-8667, or e-mailing [email protected]
– We also have another announcement — we're partnering with Ann Taylor and InStyle to offer a one-hour career/life/whatEVER consultation to whoever wins Ann Taylor's latest sweepstakes — enter here for a chance to win a Chic Wear-to-Work Wardrobe from Ann Taylor, and a Career Consultation with me!
– The WSJ wonders what happens AFTER you splurge on that fancy handbag and then find yourself bored of it in six months.
– NYT rounds up the best money sites on the web.  Meanwhile, The Simple Dollar suggests ways to incrementally decrease your spending — to make a big difference in your savings eventually.
– The Productivity Pro suggests matching your tasks to your energy level.
– Business Insider has a fun slideshow on how to network like a pro.
Many thanks to this week's advertisers:
– AK Anne Klein
– Ann Taylor
– Carissa Rose
– MySkins
– As well as our advertisers through BlogAds!