Liking these posts? Follow us on Twitter or like us on Facebook — this is the edited version of what we're reading! (We also Tweet if we hear about a good sale through our CorporetteDeals Twitter feed.)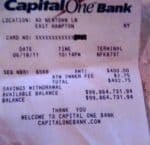 – Fashionista wonders what you would buy if you had $99 million in your bank account (the discussion being sparked by an actual ATM receipt, pictured.)

– FINS talks about first-year analyst dress code.  Meanwhile, Above the Law talks about the small firm dress code.
– Une femme d'un certain age ponders business casual.
– Above The Law shares some great thoughts about overworking, using the sad story of a recent lawyer (young woman) who died for reasons not yet determined.
– Esquire magazine offers their male readers some advice on etiquette for the office, including "how to be a good boss."
– The Careerist explores how to get great feedback.
– Mint tells you how to use your impulse shopping to feather your nest egg.  Meanwhile, Learnvest introduces me to a new term: the black swan fund.