Liking these posts? Follow us on Twitter or like us on Facebook — this is the edited version of what we're reading! (We also Tweet if we hear about a good sale through our CorporetteDeals Twitter feed.)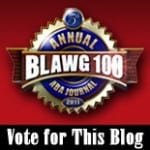 – Wow: I am totally honored to announce that Corporette has been nominated to the ABA's annual Top 100 Blawg list for the fourth time in a row. Please vote for Corporette here (we're in the "Just For Fun") niche, and check out the other nominees.
– MSNBC talks about a new problem for working women: they're burned out by the time they're 30.
– Savvy Sugar advises how to stay anonymous when browsing LinkedIn.
– The WSJ has a trick for saving unproductive days (in 25 minutes, no less).
– Lifehacker touches base and brainstorms which cliched work phrases should be retired. I'll circle back with you to reassess!
– Fashion.Style.Beauty rounds up 3 charities that cost nothing for you to make the world a better place.
– Jezebel says you just need to be confident in  your ability to read a map, park a car, and handle other complex spatial tasks.
Did we miss anything? Add 'em here, or send them to news@corporette.com. Thank you!