Liking these posts? Follow us on Twitter or like us on Facebook — this is the edited version of what we're reading! (We also Tweet if we hear about a good sale through our CorporetteDeals Twitter feed.)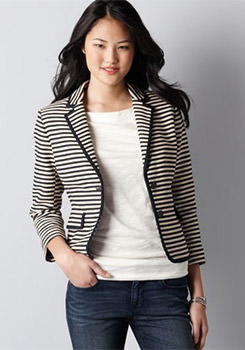 – YouLookFab suggests ways to wear a striped blazer.
– What 5 things should women never say while negotiating?  American Express Open Forum wonders.  Meanwhile, Wisebread rounds up body language mistakes that sabotage interviews, and ForbesWoman discusses how your follow up can help or hurt you.
– Savvy Sugar has three "scientifically tested" ways to help you concentrate at work.
– Ask a Manager suggests good ways to tell your network you're looking for work.
– Mint reviews some "fine print gotcha's" that should be on your radar (including canceling a hotel reservation but then having to pay full price for it anyway).
– Congratulations to Sara Blakely, whose Spanx empire has made her the youngest self-made billionaire in the world, according to Forbes.  Well done!
Did we miss anything? Add 'em here, or send them to [email protected] Thank you!