Liking these posts? Follow us on Twitter or like us on Facebook — this is the edited version of what we're reading! (We also Tweet if we hear about a good sale through our CorporetteDeals Twitter feed.) You can also follow us on Pinterest.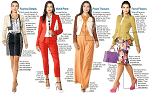 – The WSJ says the power suit is dead, suggesting instead that we wear the looks pictured.  Uh huh.  Above the Law disagrees (thanks to ATL for quoting me!).
– The WSJ recently had a conference on women in the economy and there's lots of interesting articles, including the latest taskforce thoughts on what's holding us back, and the top ten women recruiters expect to be CEOs soon.  You can read all of the articles here. The Juggle has a fun quiz to see what readers think is holding women back; The Careerist summarizes some of the advice given by one of the most controversial speakers, Jack Welch.
– Jezebel has an awesome piece that nicely rounds up the hubub over Hillary Clinton's recent appearance with very little makeup.
– Road Warriorette has some advice on traveling during your first trimester.  (Congrats, RW!)  (You can check out my own tips for working through your first trimester, too.) Meanwhile, FINS has four rules for maternity leave.
– SavvySugar suggests some friendly ways to tell friends and family what your last name is after you've married.
– Glamour reports on which brands are most loved by different age groups — sure to help you zero in on the best last-minute Mother's Day gift.
– Lifehacker names the five best fitness tracking devices.  (Ladies, what do you have, and how do you like 'em?)
Did we miss anything? Add 'em here, or send them to [email protected] Thank you!