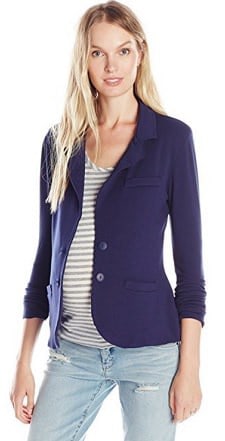 2020 Update: I still stand by the advice in this post on working through your first trimester of pregnancy! Of course check out all our discussions about staying professional (and happy, and healthy, and stylish) throughout your pregnancy, both here and at CorporetteMoms!
This is a post about working through your first trimester of pregnancy, which can be particularly trying — extreme fatigue, nausea, and all while trying to keep your "situation" on the QT in case of miscarriage. (Pictured.)
But I suppose I should make a mini-announcement regarding some personal news in Katland. First, some hints: I'm on my third bra size since December. I haven't enjoyed a martini, or deli meats, or zippers, in a long, long time. Lately, I'm having trouble falling asleep because someone keeps kicking me. The news, if you're not with me yet: My husband and I are expecting our first child later this summer. Why yes, we are terrified; thanks for asking.
One of the things I've been dying to talk about since becoming pregnant is the first trimester,* and the complete, mind-blowing fatigue that most women suffer. I would have considered myself a trooper when it comes to energy and the job — I've worked through mono and two bouts of strep throat without missing more than a day of work. But apparently mono and strep can't shake a stick at the whole "growing another human" thing. It became incredibly difficult to get up and out the door in the morning — and by 3 PM every day I needed a nap. And not a 20-minute power nap, oh no: we're talking at least a full 90-minute sleep cycle. I kept thinking about that Sheryl Sandberg talk for TED about how women, upon getting pregnant, should ramp up their career and go 120 miles per hour. NOW??? I kept thinking. Is she CRAZY?
This fatigue caught me totally by surprise. After all, a lot of women don't talk about their pregnancies in their first trimester — the chance for miscarriage is highest then, and there aren't many external physical indicators of early pregnancy (most first-time moms don't start to show until around week 20). A poll of my friends who have children or are pregnant confirmed it — everyone was exhausted during their first trimester, and every pregnancy book mentioned it. One friend, who was finishing up her final MBA year when she got pregnant, admitted that she slept 14 hours a day. A few friends told me their miscarriage stories, where after going through nearly a full trimester full of fatigue they lost the baby, and in addition to having to deal quietly with the mental and physical repercussions of losing a baby (including surgery, sometimes), they had to get the energy up to try again. (One friend noted that between her first pregnancy, which ended in miscarriage, and her second pregnancy, which she carried to term, her billable hours were shot for the year — and when she took her maternity leave they simply doubled the hours she had before she left. Ouch.) Another friend was cursed with such a bad case of nausea that she had to be medicated for it.
So I thought we'd talk about how to deal with the first trimester — keeping your energy up, rising to the occasion, and even maintaining your professional image through it all.
Before we get into the tips, though, here's an interesting thing to ponder (and perhaps you ladies will weigh in): does it hurt us to talk about the hardships of pregnancy? By admitting that pregnancy affects our stamina and energy, is it simply justifying all those people who discriminate against women employees in their fertile years? I'm almost ashamed to say the thought hadn't occurred to me — and I've even been joking (at work, yes, and yes, my face is beet red) about pregnancy brain. One boss/mentor/friend heard me and gave me a sound rebuke (and a lecture on what it was like to be pregnant in a male-dominated environment in the late '70s), and I think the lesson here is right: pregnancy should never be an excuse for why you can't get something done at the office, or why the ts aren't crossed. But that may just mean you have to step up your OWN game even more — because while in the third trimester, when you're showing and on your way out, people may cut you slack (whether they should or not): but in your first trimester it is largely a silent struggle.
For my own $.02, these are the things I wish I'd known:
Wean yourself off coffee and diet Coke way before you start trying to get pregnant. The latest thinking re: pregnancy is that you are allowed to drink coffee, but only about a cup of it a day. Artificial sweeteners aren't recommended, so diet Coke is off the list also. Before I got pregnant, I only drank about 2 or 3 cups in the morning, and then a diet Coke around lunchtime for an afternoon jolt — but decreasing to 1 cup a day and no diet Coke meant I was going through caffeine withdrawal at the same time as first trimester fatigue. (I should also mention that your tastebuds may change, as mine did — all coffee tasted totally burnt to me for about 4 weeks, and regular Coke continues to gross me out.)
Stock up on orange juice, and cut your dependency on vitamin supplements. I kept reading that pregnant women should avoid vitamin supplements during this time (beyond your prenatals) and so I have avoided my beloved Emergen-C. Instead I kept buying OJ when I needed a jolt of energy.
Take your prenatals at night instead of in the morning. I've heard it's the extra iron in the prenatals that makes you nauseous on an empty stomach — but whatever it was, I wish I'd stumbled on the advice to take them at night instead of in the morning long before I did.
Prepare your office for naps. Yes, seriously. Bring in whatever you need to make for a comfortable napping environment — pillows, blankets, etc., because you WILL need naps to make it even to 6pm (let alone 10 pm or whatever other quitting time is usual for you).
Eat frequently, and guzzle water. It took me a few weeks to realize that the nausea was so much worse if I hadn't eaten for a few hours — I also would get these whanging headaches if I hadn't eaten. Just a few unsalted Saltines and some cheese can help you function normally.
My final advice to women embarking on pregnancy is to time it well. The first trimester can be 6-8 weeks of feeling far, far less than your best, and I can think of a number of times in my own life when it would have been disastrous to be going through the first trimester: the first semester of law school, being a summer associate, crunchtime studying for the bar, and trial prep. So nail down your birth control methods during those time periods, ladies.

For those of you who've been pregnant, did your first trimester affect your energy, and how did you compensate for it at work? What tips do you have for the readers who hope to get pregnant some day — what's your best advice on working through your first trimester of pregnancy?
* Oh, and some terminology for those not familiar with the joys of pregnancy: your pregnancy is counted from the first day of your last period, not the day you conceive, which means that by the time most women find out they're pregnant they're already "4-6 weeks pregnant." The first trimester ends around week 13 — so we're really only talking about 6-8 weeks of extreme fatigue. Still: I've known careers to rise or fall in that time, so I think it is a relevant discussion for this blog.
Social media picture via Fotolia / vladimirfloyd.