Liking these posts? Follow us on Twitter or like us on Facebook — this is the edited version of what we're reading! (We also Tweet if we hear about a good sale through our CorporetteDeals Twitter feed.) You can also follow us on Pinterest.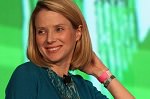 – The WSJ looks at how top executives (including Google's Marissa Mayer) manage their time and energy so they don't burn out.  Meanwhile, Learnvest wonders why so many women are burning out before age 30. In semi-related news, Lifehacker has some suggestions for how to survive the workday when you're completely zonked.  (Speaking of Marissa Mayer:  The Jane Dough has a fun round-up of the first jobs of the top women in business.)
– Jezebel takes on the Above the Law article quoting Professor Anna Akbari, advising women to wear skirt suits because they're more "appealing" to men.  (My $.02: I don't think that's true — I think older men and women both react better to skirt suits because they are the older, more traditional, conservative choice.) ATL comes back with a super thinky piece on skirts and feminism from the same professor.
– Savvy Sugar suggests 10 interview questions to master.
– NPR reviews a study that finds that women don't play "queen bee" (and in fact DO help other women).
– Apartment Therapy advises you how to start collecting artwork — even on a budget.
– Elle reveals the four secrets to self-discipline.
– Finally:  there's an interesting piece from the Harvard Business Review on why boards need more women.  Readers: do any of you have experience with how to get on a board?  Would love to write a piece about this.
Did we miss anything? Add 'em here, or send them to [email protected] Thank you!