Liking these posts? Follow us on Twitter or like us on Facebook — this is the edited version of what we're reading! (We also Tweet if we hear about a good sale through our CorporetteDeals Twitter feed.) You can also follow us on Pinterest.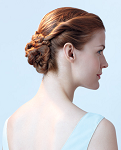 – Real Simple rounds up 6 "easy" braids for the summer. Despite the fact that all of the models look like they've been tranquilized, I think a lot of the 'dos could work for the office.
– Your mind needs breaks!  The NYT talks about how you should take breaks to stay on schedule, and the WSJ explores how "the juggle" does not just apply to parents, but to single people too. The Chronicle of Higher Education imagines a world where we all only work 15 hours a week. Lifehacker agrees.
– Can women have it all?  An interesting op-ed in The Atlantic (by Anne-Marie Slaughter, former director of policy planning at the State Department) says NO. Meanwhile, there's a fascinating piece in Forbes suggesting that entrepreneurship is the new woman's movement.  (I kind of agree.)
– Grammar gaffes are increasingly embarrassing bosses, says the WSJ.  But: good grammar costs nothing!
– Savvy Sugar has tips for easing back into work after vacation.
– The Jane Dough takes a look at bitchface.
– Thanks to Forbes Woman for rounding up the Top 100 Websites for Women (and including Corporette!)
Did we miss anything? Add 'em here, or send them to [email protected] Thank you!