Liking these posts? Follow us on Twitter or like us on Facebook — this is the edited version of what we're reading! (We also Tweet if we hear about a good sale through our CorporetteDeals Twitter feed.) You can also follow us on Pinterest.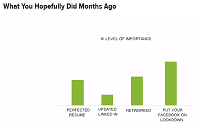 – Lifehacker has a ton of amusing but true charts on "how to get hired."
– There's a great new book out, Overdressed: The Shockingly High Cost of Cheap Fashion
, and on Fashionista, the author suggests 8 ways to avoid buying cheap clothes without going broke.
– Makeup Lovers Unite has a fun pictorial comparing high-end makeup colors and their "drugstore dupes."
– If you loved "the old Coach," before they went logo crazy, good news: their iconic bags are coming back, according to the WSJ.
– Yeow: if you've ever wondered about monitoring software on your office computer, you need to read this WSJ article.
– Got a new job?  Savvy Sugar suggests 8 things you can learn about your office without asking. The Grindstone weighs in on whether high heels can make you seem more career-savvy.
– The Jane Dough takes a closer look at the pay gap issue, quoting a study that says women GOP staffers make far less than male staffers.
– In personal news: thanks to IFB for quoting me in an article on when to go pro as a blogger.
Did we miss anything? Add 'em here, or send them to [email protected] Thank you!