Liking these posts? Follow us on Twitter or like us on Facebook — this is the edited version of what we're reading! (We also Tweet if we hear about a good sale through our CorporetteDeals Twitter feed.) You can also follow us on Pinterest.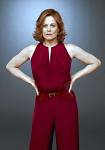 – Lisa at Privilege has some awesome snark for working wardrobes on TV, including, apparently, a show in which a character running for President (of the United States) gives her concession speech in a bright red jumpsuit.  Brilliant.
– Esquire and the WSJ advise men what to wear to work, but there are some great tips for women too:  buy what fits, get good shoes, go simple, seek advice, and to "care a little bit."
– Barking Dog Shoes rounds up nine cute and comfortable shoes for Fall 2012.  Capitol Hill Style clarifies her stance on "people over 25 shouldn't wear denim out." (Do we agree?)
– The Careerist tells us we're all being petty to get so worked up about her opinion that women over 40 should cut their hair.
– Savvy Sugar has a really interesting roundup on the frugal habits of millionaires.
– The WSJ tells you how to get elite travel perks.
– Finally, thanks to People StyleWatch for quoting me in an article about prints and the office.
Did we miss anything? Add 'em here, or send them to [email protected] Thank you!