Like these posts? Follow us on Twitter or Facebook — this is the edited version of what we're reading! (We also Tweet if we hear about a good sale through our CorporetteDeals Twitter feed.) You can also follow us on Pinterest.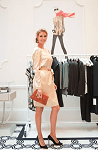 – Lucky Magazine interviews Ivanka Trump on designing for the modern working woman.
– Angie at You Look Fab learns from her shopping mistakes.  (Yep, been there.)
– Ask a Manager ponders how "connected" women should be on maternity leave.
– Forbes gives us an inside look at Kate White's new book, where she tells us success secrets she "shouldn't be telling us," including how to use "bitch envy" in a positive way. Meanwhile, Savvy Sugar warns us against negative coworkers.
– Inc. has some great suggestions on how to schmooze without seeming sleazy.
– Road Warriorette wonders what dress is inappropriate for flying.
– Lifehacker rounds up the best office chairs.
Did we miss anything? Add 'em here, or send them to [email protected] Thank you!