Like these posts? Follow us on Twitter or Facebook — this is the edited version of what we're reading! (We also Tweet if we hear about a good sale through our CorporetteDeals Twitter feed.) You can also follow us on Pinterest.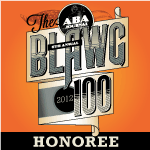 – Thank you to the ABA Journal for nominating Corporette one of the Top 100 Law Blawgs, for the fifth year in the row (eek!)! Readers, I'd be honored if you'd go vote for me as best of the category "Career" — go here, register/sign in, and vote away. Thank you!
– The Washington Post has a fascinating article about how newswomen have stopped wearing suits, which may hasten the suit's demise.
– SheFinds has an intriguing slideshow about what actually sold on Black Friday.
– Grammar nerds, unite: Savvy Sugar has a gift guide for us.
– Fast Company tells you how to make up for lost ground if you didn't negotiate your first salary well.  Meanwhile, Online MBA has an interesting video about how to know when it's time to change careers.  Similarly, a guest poster at The Careerist has a three-part series for lawyers about how to make a lateral move to a new firm.
– Four career experts weigh in over at Intuit Quickbase on how to fix it if you've got a focus problem at the office. Over at Above the Law, guest poster Susan Moon shows us how to manage our managers.
– FitSugar has a great slideshow about the best yoga poses for desk dwellers.
– In other Kat news: thanks to the NYT for quoting me in an article about how to buy new work clothes on a budget, and thanks to Above the Law for letting me guest post this week (all about BigLaw holiday parties).
Did we miss anything? Add 'em here, or send them to [email protected] Thank you!