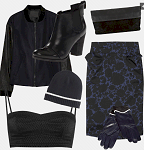 Like these posts? Follow us on Twitter or Facebook — this is the edited version of what we're reading! (We also Tweet if we hear about a good sale through our CorporetteDeals Twitter feed.) You can also follow us on Pinterest.
– New York Magazine tackles the "how tow wear black and navy" question.
– Searching for Style has some nice thoughts on business casual.
– The WSJ tells you how to redo your to-do list to actually get more done.  Working Mother magazine has advice for all working women from 10 executive moms.
– Ask a Manager ponders how to handle condescension from older male coworkers.  Something that probably won't help: signing work emails "xo," a new trend according to The Atlantic.
– Great on the Job has some great networking advice.
– At year-end, I thought I'd give a few links to a few of the "top charities" lists circulating:  here's the list from Real Simple, Bill and Melinda Gates, and Forbes. Readers, which are your favorites?
– SparkPeople has a nice list of the Top 100 Workout Songs of 2012.
Did we miss anything? Add 'em here, or send them to [email protected] Thank you!