Liking these posts? Follow us on Twitter or fan us on Facebook — this is the edited version of what we're reading! (We also Tweet if we hear about a good sale.)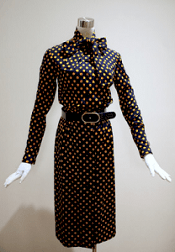 – WSJ interviews a woman who left her corporate gig and is now getting rid of her corporate clothes, as well — on eBay.  (Pictured:  one of her items for sale.)
– MSNBC has an interesting article on how men perceive women's work behavior.
– The Harvard Business Review has suggestions on how to manage your inner critic.
– Be warned: that AOL or hotmail e-mail address apparently is a resume risk.  Lifehacker asked its readers what their prejudices were, and then analyzed the answers.
– Finally:  Jezebel has some choice words for Alex Benzer's suggestion that the smartest women have the toughest time dating because they are the problem.