Liking these posts? Follow us on Twitter or like us on Facebook — this is the edited version of what we're reading! (We also Tweet if we hear about a good sale through our CorporetteDeals Twitter feed.)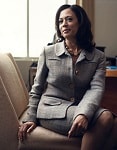 – Harper's Bazaar talks Kamala Harris, California's new attorney general, about power and fashion.
– YouLookFab has some great tips for how to troubleshoot problem outfits.
– Lindsey Pollak finished reading Tina Fey's new memoir, Bossypants, and shares what she took away in terms of career advice.  Meanwhile, the NYT excerpts the book "The Corner Office
," which distills the wisdom of CEOs.
– Are you a super-achiever who fears burnout?  Psychology Today can help.
– Wisebread advises which mistakes to avoid with a financial adviser.
– The NYT wonders how little sleep you can get away with.