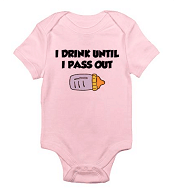 2017 Update: We still stand by this advice on what to wear to pump at work (and it was a great discussion!), but you may also want to check out our best tips on pumping at the office, compiled on our blog for working mothers, CorporetteMoms! 
What ARE the best clothes for pumping breastmilk at the office? This is a question I get asked so often, I thought we'd have a discussion about it.  (We have talked about it once before, from guest poster Jenny Hamilton, who had some great general advice, as well as advice on how to travel for business while pumping.) Here's the latest question, from reader K:
Here's my dilemma, I'm headed out for maternity leave in a month or so and am looking for professional clothes that are nursing / pumping friendly. I don't want to break the bank, but most of what I've found so far is either cheap looking or totally inappropriate. I don't need to "show off my new assets" at work. I just need to be able to look professional and pulled together, and pump without having to strip all the way down. Any guidance would be appreciated.
Congratulations on your baby! The current American Academy of Pediatrics guidelines suggest that mothers nurse their children for the first year of their life (recommending that babies exclusively eat breastmilk for the first 6 months). I'll say up front that there's absolutely nothing wrong with formula if that's what you choose to do. (I'll also note: it doesn't have to be an all or nothing proposition. You can nurse her for 3 months, then just nurse morning and night with your child and give her formula in the middle of the day, skipping the pump entirely.) But: working moms who pump — you guys are rockstars in my book. I'm always inspired by commenters who talk about having pumped for long periods of time (I think one commenter was recently celebrating an end to four years of pumping!) Even in a perfect world, it takes dedication and drive to pump regularly — but I've also heard war stories from friends, about trekking to windowless closets with pumping equipment, about enduring funny looks and having to explain their various funnels and contraptions when they rinsed them off in the ladies' room. It ain't easy.
First, let me set the scene for those of you not yet familiar with pumping — we're talking 10-20 minute sessions with the pump, every 2-4 hours, depending on how old your child is. (Another thing that depends on the woman is how strictly you have to stick to your schedule — some women will be uncomfortable and maybe even leaking if they miss their schedule by 10 minutes; others can miss an entire feeding before they're uncomfortable. To maintain your "supply" it's best to stick to a schedule, though.) You can rent or buy a variety of different pumps, from handheld ones to hospital grade ones — I had the Medela Pump in Style
, which just looks like a black tote bag, plugs into a wall or a car outlet (!), and I found pretty easy to operate. (Your insurance provider may reimburse you for the pump.) I always found it easiest to pump both sides at once, using a supersexy bustier
to hold the funnel. Depending on the woman, you may or may not be able to continue working (at least typing or reading) while you're pumping; but you may have to look at pictures of your child to get in the right place of mind to encourage your milk to let down. Pumps vary, but my pump makes a fairly loud mechanical sound — I would not be able to be on the phone with it, or do it discreetly in a shared space.  Certain parts of the pump should be cleaned frequently — the foghorn-like things
you attach to your breasts, the valves
the milk goes in through, and obviously the bottles and caps.  You may want to buy a mini fridge
for your office, or at least carry a cooler/lunch tote with an icepack — you should refrigerate breast milk that won't be drunk in 2-3 hours.  I was advised to only "mix" breast milk of the same temperature (e.g., cold with cold, not cold with warm) — so you'll probably need at least 4-6 bottles to get through one day at the office.
Now on the question at hand: WHAT TO WEAR?  I never pumped regularly, so I will defer to the readers on this, but here are some of my thoughts:
You definitely want to wear a nursing bra.  I hate nursing bras, so I don't say this lightly.  But I always found it easiest to pump with a nursing bra on — it gives the girls a bit more support and helps position them in the right place.
You want something that will make it easy to put the pumping corset on (for mine, you wrapped it around your midsection, and zipped it up).  I honestly just found it easiest to wear t-shirts or pullover tops that I could push up to around my neck for the pumping session.  I've always heard readers recommend wrap dresses, but to me it seems like you'd have to get entirely undressed in order to put the corset on.  (Trust me, you don't want to wear the corset unless you're actually pumping.) Similarly, the problem with button-front blouses is that you'll probably have to unbutton them entirely in order to get it on.
Avoid V-necks and anything low-cut.  Not only will your breasts be a different size than they were before you were pregnant, but they may be different sizes throughout the day.  It depends on every woman, but in general I think you're going to want to stick to tops with a lot of coverage, especially at work.  I never bought one of these, but my friends swear by nursing camisoles — they help raise the neckline of everything you're wearing, but they open up for easy access.  Some have shelf bras, some don't; they even exist for DD+ sizes.
Don't spend too much money on nursing clothes.  Not only are they really not intended for pumping, I had bad experience after bad experience with them — I bought 15 pieces of nursing clothes and found ONE that I thought was intelligently put together for the dual goals of "nursing my child easily" and "not exposing my entire breast to the world."  (My favorite one was a double layer top, similar to this Gap one.) You do need one or two tops — at the very least for airplanes (they recommend you nurse your child for takeoff/landing — the sucking helps with the ear pressure), playdates, and doctor's visits (trust me, you'll want to nurse after your baby gets shots) — but I don't think you need an entire wardrobe of them.  I've never purchased from the brand, but Hadley Stilwell makes professional looking nursing clothes.
Prepare for possible leakage, either by wearing nursing pads or by wearing prints.  Not every woman has problems with her breasts leaking — I bought a 4-box set of Lansinoh breast pads and used like 4 pads total.  It may happen because you're still new to breastfeeding; it may happen because you miss a feeding/pumping session; it may happen because you hear something heartwarming and lovely during the day.  At the very least, have a scarf in a neutral color, if not an entire back-up outfit at the office, if something goes awry.
Put a towel with your pumping kit, and lay it across your lap when you're pumping to protect your pants or skirt.  When you're done pumping, you can wrap your supplies in the towel (so nothing drips around the office) and take the wrapped-towel to the bathroom to clean 'em. Pumping can occasionally be messy!  (If any should spill on your leather office chair, or office carpet: clean it up asap.  Trust me on this.)
Readers, what are your thoughts on pumping at the office?  What are the best clothes to wear for pumping?