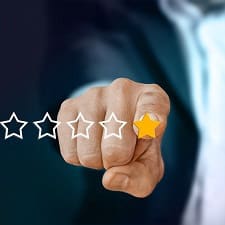 I sometimes wonder, "What would I do without online reviews?" because I rely on them so much (for example, as a very frequent Amazon Prime user). When I'm
looking for a new bra
or shoes or a flash drive or a book (ha, remember when Amazon was about books?), I note the average rating and often read a few of the reviews. At Amazon, I'll often use "4 stars & up" as a search filter. Recently, I was looking for something for
undereye circles
, and besides the usual suspects, my search turned up a bunch of products from brands I've never heard of — and they had thousands of positive reviews. (Some of the products appeared to be the same ones as others sold under different names, which seemed like a red flag). Around the same time, I came across a site called
Fakespot
, which proposes to solve the problem of how to spot fake reviews on Amazon and other sites. It quickly analyzes online reviews for Amazon, Yelp, TripAdvisor (especially relevant after its 
recent controversy
), and Apple's App Store, and grades each one from A–F. A indicates 90%+ reliable reviews and reviewers. After it takes into the account the real vs. questionable reviews for a particular product you enter, Fakespot gives you an "adjusted rating." I tested out Fakespot for a few of those eye serums I saw and got some interesting results regarding when to trust online reviews for beauty products:
This post contains affiliate links and Corporette® may earn commissions for purchases made through links in this post. For more details see here. Thank you so much for your support!
Pure Biology "Total Eye" – 4.3 rating from 2,997 reviews. Fakespot grade: D — "49.0% of the reviews are reliable."
Organys Rejuvenating Eye Formula — 4.5 rating from 2,475 reviews. Fakespot grade: C — "Our analysis detected 25.0% low quality reviews."
Baebody Eye Gel – 4.1 rating from 12,860 reviews. Fakespot grade: B. — "Our analysis detected over 80% high quality reviews."
Compare those results to a review from a more reputable, mainstream brand, Maybelline, whose very popular
Instant Age Rewind Concealer
has a 4.1 rating on Amazon from 4,124 reviews. Fakespot gave the reviews an A grade and reported, "Our analysis detected over 90% high quality reviews." (I actually bought the concealer a few months ago and wasn't a big fan — FWIW, I've had better luck with
Urban Decay
— but it's hugely popular and people love it, so YMMV.) As one more experiment, today I checked on the TripAdvisor reviews for a family resort we've visited a few times (it has 7,000 reviews) and Fakespot said, "Oh! This is something we haven't analyzed yet, please wait" and then eventually gave me a server error. The second time, it seemed to be analyzing the reviews for several minutes and … never stopped. Still, as someone who shops online far more than in brick & mortar stores, I'm so glad a tool like this exists.
How do you know how to trust online reviews? Do you use online reviews a lot when you're making shopping decisions? Do you ever write online reviews yourself? How useful do you find it when a site like Rent the Runway, ModCloth, and Sephora (and Amazon) include customers' own images on product pages? 
We are a participant in the Amazon Services LLC Associates Program, an affiliate advertising program designed to provide a means for us to earn fees by linking to Amazon.com and affiliated sites.