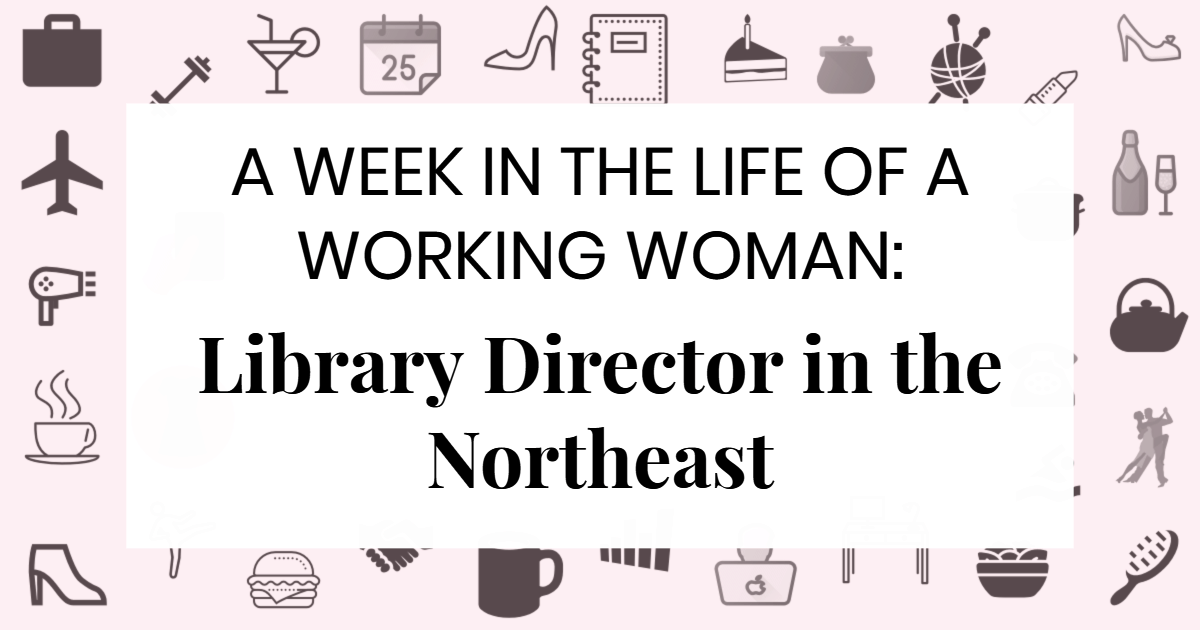 For the second installment of our Week in the Life of a Working Woman series (based on our CorporetteMoms series featuring working moms), I'm happy to introduce Corporette reader Alexandra, who lives in the Northeast and works as a library director at a boarding school. Our usual caveat applies: Please remember that this is is a real person who has feelings and isn't gaining anything from this, unlike your usual friendly (soul-deadened, thick-skinned, cold-hearted, money-grubbing) blogger — so please be kind with any comments. Thank you! — Kat
If you'd like to be featured (anonymously or otherwise), please fill out this form! You can see a PDF of the questions if you want to review them ahead of time. N.B.: We've removed the requirement to share your email address, and we're coming up with a second option for the form that asks more specific questions about your life/work balance — let me know if there's anything in particular you'd love to know!
First, Some Basics About This Corporette Reader…
Name: Alexandra
Location: Live and work at a boarding school in the Northeast
Job: Library director
Age: 29
What's your general situation?
I'm a library director at a boarding school for 9th to 12th graders. I live in an apartment attached to a girls' dorm and regularly work evenings in the dorm. Because the boarding school is so remote, my colleagues are also my friends!

How many hours a week do you usually work? [multiple choice]
51–60 hours a week
How is the work-life balance in your industry in general? What are common ways of juggling responsibilities that you see your colleagues and coworkers doing?
Work-life balance is pretty much non-existent at boarding schools since we all work AND live here. When a student needs something in the middle of the night, their faculty advisor gets a call. It can be difficult to stop working at night because you never leave work. Some people go off campus for the evening a few nights a week and others have a rule that work items don't go past their office and into their house (our offices are the rooms connected to the dorm).
What's one thing that surprised you about your industry, career, or job?
Teaching teenagers is a lot of fun, but it is even more fun when you get to know the kids outside of class! Living and working in the dorm means that I get to have conversations with the girls about everything from prom to the general election. Building these relationships is one of the best parts of the job!
A Week in My Life
Sunday
Last night I chaperoned prom and then stayed to help clean up after. This meant getting back to my apartment around 1:00 a.m., and I always have trouble falling asleep after working so late. Since I didn't fall asleep until around 3:00 a.m., it's a lazy morning. I roll out of bed at 9:00 a.m., which is super late for me! I spend the day editing a video for work and catching up on YouTube videos. Tonight's the finale of Game of Thrones so I make some brownies to bring to a friend's house and pick out some wine. We drink some of the wine to drown our sorrows at the miserable ending. I don't get home until 11:00 p.m. — another late night!
Monday
I start the morning with breakfast in the dining hall at 7:30 a.m. There is a group of us who eat breakfast together every morning and it has become one of my favorite moments of the day.
I have an 8:00 a.m. meeting with the department heads so I have to leave breakfast early for that. Today we are reviewing student petitions.
After my morning meeting, I head to the library and field emails until it's time for lunch. We eat lunch as a school in the dining hall at assigned tables.
After lunch, it's back to the library for more work. Today I have a consultation with two colleagues about a 9th grade program we are working on. It takes longer than expected so I end up rushing out the door at 4:00 p.m. Monday is one of my duty nights, so I try to leave work at 4:00 to get a few things done.
We have required semiformal dinner every Monday night from 6:30–7:00 p.m. so I throw a load of laundry in and clean the kitchen before heading to dinner. I have library duty from 7:00–10:00 p.m. so after dinner I walk to the library and supervise any students who are working on homework until it's time to leave.
We asked Alexandra what her career plans had been when she earned her library degree:
When I first started library school, I thought that I would work for the Congressional Research Service! I did a lot of internships during my master's, and one was with the teen services department at a public library. As soon as I realized that I was regularly asking for more hours there because I loved working with teens, I knew that I needed to start thinking about a different area of library science.
Tuesday
Tuesdays are when the whole faculty gathers at 8:00 a.m. for a meeting so I usually grab coffee with a friend at a nearby coffee shop before the meeting. The Americano usually helps me keeps me from arguing with people during the meeting … usually. I'm not a morning person.
Today I do a lot of research consultations with students and field emails from vendors. Classes end early on Tuesdays so I head home around 2:30 p.m. to get some things done before I chaperone a student activity from 6:00–9:00 p.m.
Wednesday
Breakfast in the dining hall again! It's bacon day so I am thrilled. The dining hall only serves meat for breakfast a few times a month so I look forward to those days.
By 8:00 a.m. I am in a meeting about the calendar for next school year. I sit on a lot of committees but this one is one of my favorites. We decide which speakers and special events will happen and it is always a lot of fun.
I spend the rest of the morning working on items that came out of my 8:00 a.m. meeting.
Lunch is in the dining hall again. The students at my table right now are not particularly talkative. I try to get their opinion on which speakers we should bring in, but the conversation flops. That's teenagers for you — some days are just not good talking days!
After lunch I am back in the office for a few hours to write up a few initiative proposals and answer research questions. I head home at 4:00 p.m.
While home I read for an hour or so and catch up on some television. I have duty again tonight so I head to dinner at the dining hall from 6:30–7:00 p.m., before heading back to the dorm I live in. Dorm duty is from 7:30–11:30 p.m. so I grab some decaf coffee and set up for the night. It's one of the last nights with this years' seniors so I end up talking to some of the girls instead of reading the book I brought down.
We were curious as to whether Alexandra gets tired of dining hall food, convenient though it may be, and this was her response:
It's a great perk [for] two meals a day … but the days when I have to eat three meals there it can get a little old. I really enjoy cooking so there are some nights that I just want to head home and relax while making a new recipe!
Thursday
Another dining hall breakfast followed by an 8:00 a.m. meeting.
I spend the morning answering staff questions and ensuring that our big projects are moving along smoothly. I supervise a staff of five and right now we are trying to remove a bunch of old books from the collection, complete and inventory, and shift books to make room for more study spaces. There are a lot of moving parts!
Lunch is in the dining hall again — this time with my advisory group. These are girls that I meet with regularly to talk about grades and life at boarding school. We have lunch together every Thursday. Sometimes the residential life office will give us something to talk to them about, but most of the time we just hang out.
The afternoon is filled with teaching and fielding research questions — my favorite kind of afternoon. I leave at 4:00 p.m. and head home.
Though it's the last thing I want to do, I have to head to the grocery store or eat Cheez-Its for dinner. I pick up some salmon and broccoli for tonight and then some essentials for the weekend. Once home, I try to stay away from work but find myself checking email as I watch an old episode of NUMB3RS. Around 10:00 p.m. the fire alarm goes off and I head outside. I check in with the girls on my wing to make sure everyone got out okay. Luckily, it's a false alarm. Someone tried to make ramen without adding water. Again. This is a relatively common thing in the dorm — ugh!
Friday
Another dining hall breakfast but no 8:00 a.m. meeting! I love having a few more minutes in the morning to sit around with my colleagues/friends. I am in the office by 8:30 to field emails.
Today I need to pull books that are old so that we can withdraw them from the collection. To non-librarians it seems like sacrilege to get rid of books, but weeding is what keeps the library healthy! We get rid of things that are gross, include inaccurate information, or have been sitting on the shelf for 10+ years without being used.
The work day is over quickly! Time flies when you are shifting books.
I head home around 5:00 p.m. I am meeting a friend for dinner at a pub in town so I change quickly and walk down. We are lucky enough to have a pub and a coffee shop within walking distance. My friend and I spend a few hours eating burgers and drinking beer before calling it an early night. It's been a long week!
Here's what Alexandra had to say about living in a remote area:
It is so safe here, and that is something that I take for granted a lot. Kids can play outside without any parental nervousness — a rare thing these days. But it does get old having to travel 1–2 hours for things like Wegmans/Trader Joe's/Publix and over 45 minutes to get to a non-chain restaurant or a doctor's office.
Saturday
I am so excited to sleep in! I roll over and notice that it is 7:00 a.m. — what a luxury. I hop out of bed and run a load of laundry.
Today there is a fair in town so I head down for some of the best local donuts. I bring a work bag with me and end up spending a few hours at the coffee shop working on lesson plans.
It's such a beautiful day that I grab a book and read out on the lawn beside the dorm for an hour or so before one of my friend's children comes over and wants to play. On a boarding school campus you are never far from friends! I play with my 3-year-old friend for a bit before going inside and making dinner.
Dinner is more of the salmon and broccoli from the other night, with a glass of wine. I settle in for the evening with a book and the next thing I know it's 11:00 p.m. and it's time for bed.
Thanks so much to Alexandra for sharing a bit of her life with us! Readers, what's your biggest takeaway from her week of work as a library director as well as her general work/life balance?