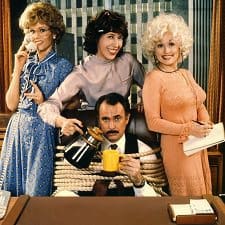 Welcome to our first movie discussion here on the blog — as noted a few weeks ago, I thought it might be fun for us to review a few
movies about working women
through the years that you may or may not have seen. Today we'll be discussing the 1980 movie
9 to 5
.
Our next discussion will be of Working Girl, on November 1 — it's available for streaming on Netflix, from your local library, and on Amazon. (Here's a link to the trailer, and to the Rotten Tomatoes page, where it has an 84% fresh rating.) 
So let's discuss the movie 9 to 5!
(Warning if you haven't seen it — spoilers ahead!) Here's what I remembered about this movie before watching it recently: I remembered that three women bonded together and tied up their mean boss and ran the company in his absence. I remembered Violet's Snow White scene, with the birds and the poison in the coffee. I kind of forgot about the "fun romp" with the dead body and the crazy role in the plot played by Doralee's hand gun (which she brings to work!! loaded!!). On rewatch: What a great, fun movie — and I love that when they reissued
the widescreen DVD
a few years ago they called it the "Sexist, Egotistical, Lying Hypocritical Bigot Edition." It was very interesting to me to see how Doralee's character interacted with her boss, Mr. Hart — the
routine
way she defended herself against his advances, threats, and blackmailing was remarkable. Same old, same old. (The recent
New Republic article
on
9 to 5
had this to say about the boss's advances: "The concept of 'sexual harassment' as a legal issue—and not simply the way things were—wasn't drilled into the American consciousness until eleven years after the release of 9 to 5, when Anita Hill testified at Clarence Thomas's Supreme Court confirmation hearings. ") I really liked how all three of the women had a can-do attitude (even with the dead body!), even the meek divorcee, Judy. (I'm so happy she didn't ditch her friends to go back to her cheating husband — that could very easily have been a plot point.) The flexible working conditions they introduced at the end were fantastic, and in the movie, at least, it was great to see the welcome reception the ideas had. (I feel like they may have glossed over some, er, liability/license issues with the on-site daycare, but hey, it's fiction.) At the end of the movie, I was sad there was no
Holloway & Harris
moment for Violet, or that the three women didn't start a business consulting other workplaces on flexible conditions — in some ways, the fact that their "happy endings" were so underwhelming is as much a mark of the times as anything. Stray observations:
THE HAIR! MY GOD, THE HAIR. Otherwise it's kind of fun to see the other fashion that has come back around and is now in now — bodyconscious turtlenecks, voluminous coats, etc. Also: I feel like Dolly Parton's bras deserve a special shoutout because I have tried similar, uh, shape-enhancing bras like that even now in 2016, and ladies, let me tell you, the pointy cone look flatters no one.
Wow, kimonos WERE in style at another point in recent history! And I think Violet looks great in hers! I feel like she attributes different levels of authority to the kimono/blazer/sweater top layers that didn't quite make sense to me.
I feel like the bar they go to where they all bond (Charlie's) probably still exists and looks exactly the same in NYC but minus the cigarette smoke.
She brought a gun! To work! Then threatened her boss with it! Then pulled it out playfully while she and her new friends were getting stoned! Is this what 1980 was like?
If you were babysitting your tied-up, kidnapped boss at night, you'd choose to wear a silky nightgown? Really? In other Jane Fonda outfit news, I thought that her first day outfit at the job was interesting, and was kind of touched to read in IMDB's trivia that she interviewed a lot of women who had started jobs post-divorce and a lot of women mentioned wearing their Sunday finest for their first day on the job.)
All right, ladies, over to you — what were your thoughts on
9 to 5
? What quotes and scenes had the most impact to you, so many years after it came out? 
(Psst: we've talked about a bit about
flexible work arrangements
over at CorporetteMoms if you're interested.)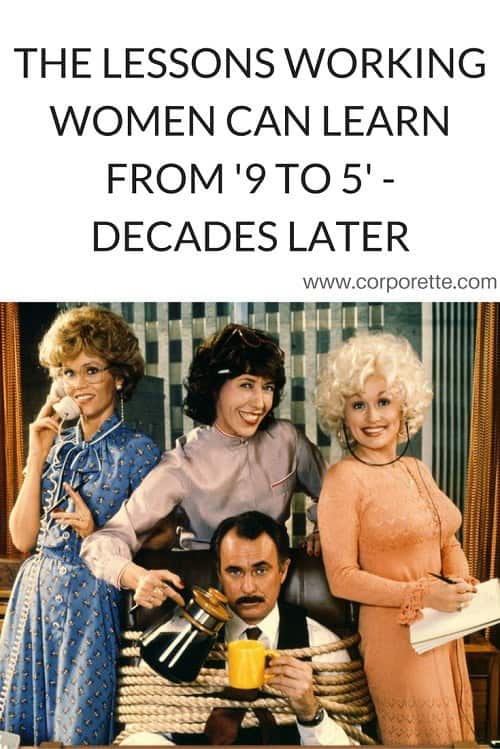 We are a participant in the Amazon Services LLC Associates Program, an affiliate advertising program designed to provide a means for us to earn fees by linking to Amazon.com and affiliated sites.