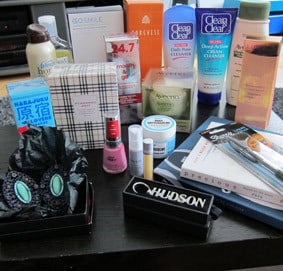 Won't you please, won't you please, won't you please take my reader survey?
I'm always so amused to look at the Corporette stats on Quantcast — according to that, 38% of the Corporette readers are male, and 39% of you are 35-49. The last time I took a survey, though, 44% of you were 22-28 — and call me crazy, but I've always had a gut feeling that we have a primarily female audience. So in order to make sure I'm serving the demographic I actually have, I'd love to know more about you. I've compiled a quick little survey and I would be so, so appreciative if you would take it.
HOW appreciative? Well, I've decided to turn it into a giveaway — by taking the survey you have the option to enter to win a grab bag of products from brands including Borghese, Lumene, Burberry, GoSmile, Aveeno, and more.
Thank you so much for taking the survey!