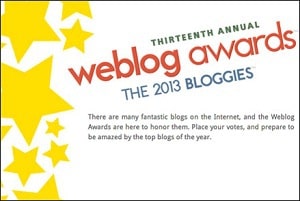 So: years and years ago, when I just started, I was fortunate enough to be nominated for a Bloggie award, in the "Best Kept Secret" category for 2009 — little did I realize that the Weblog Awards are kind of a big deal. (D'oh.) And *every year* since then, I totally forget when the nominations open and close. But: I'm on it this year! And I would be so honored if you would please consider nominating Corporette for:
"Best Fashion or Beauty Weblog," or
While you're there, you can nominate other favorite blogs in categories such as Politics, Health/Wellness, Food, Parenting, and Entertainment.  I know I've discovered a ton of great new blogs over the years just by perusing the nominees and winners.
I would hugely appreciate it — these awards really do help with exposure, traffic, new readers, etc, etc, and it's a big honor just to be nominated.  You do need to put in an e-mail address, but I've never gotten spam from it. Thank you guys so much for reading Corporette! 
(And: Just to make it a fun discussion: if you're voting for other favorite blogs in different categories, please link to them below — which category and which blog?)