Like these posts? Follow us on Twitter or Facebook — this is the edited version of what we're reading! (We also Tweet if we hear about a good sale through our CorporetteDeals Twitter feed.) You can also follow us on Pinterest.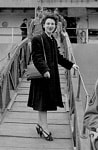 – Read this fascinating NYT obituary of Beate Gordon, who, at 22, "almost single-handedly wrote women's rights into the Constitution of modern Japan, and then kept silent about it for decades."
– SheFinds has some great advice for shopping online. (Read my own internet shopping tips here and here.)
– Already Pretty is having an interesting discussion on how to get the smell out of clothing. (We've actually talked about when drycleaning doesn't work here before, too.)
– Savvy Sugar rounds up some Etsy items to help organize your workspace.
– The NYT has an interesting article about how some companies are trying to adopt policies to wean employees from their electronic devices.
– The WSJ covers the new trend towards online crafting classes.  "Advanced Fondant Techniques" for one, please.
– Oooh: Mashable has the deets on a mobile device charger that aims to provide emergency power — this one device can charge an iPhone 5 "about 20 times."  Not bad.
– Finally: Stop feeling guilty about microwaving your veggies: according to Organic Gardening, that's one of the healthiest ways to cook 'em.
Did we miss anything? Add 'em here, or send them to [email protected] Thank you!