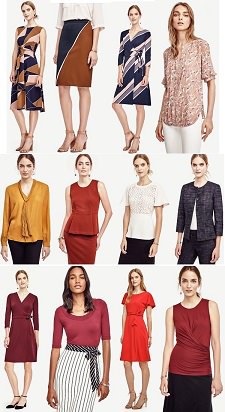 This post is sponsored by Ann Taylor, but written by your regular friendly blogger Kat.
Ann Taylor's Friends and Family sale is ending TONIGHT, with the entire site being 40% off with code FRIENDS40 until then. Sales are so much fun to shop with friends, and I'd love to hear what the Corporette community has bought already, is still considering buying, and is going back for more! I'm absolutely loving the patterns and textures I'm seeing, all amidst the classic shapes we know and love from Ann Taylor. Some of my favorites are below — but which are your favorites? 
Bold Patterns for Work
Bold patterns are a lux, sophisticated way to inject a ton of personality to your workwear. Pair them with neutrals to play it safe, or try mixing patterns and textures to have a bit of fun. Some of my favorites from the sale: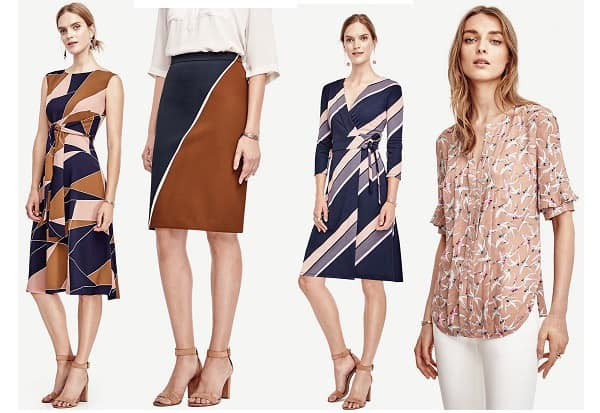 Above: dress / skirt / dress / blouse
Modern Geo Tie Waist Dress – I love this one for work and beyond! To make the dress more versatile, don't forget that you can always top it with a slim cut merino sweater in navy to wear it just as a skirt; you can also layer it with a thin navy turtleneck beneath it for winter. The dress is $159 full price, available in regular and petites, and sizes 00-14; in the sale it comes to $95.
Colorblock Pencil Skirt – The slanted color block pattern here is amazing — classic but interesting at the same time. White and navy are the obvious things to pair it with,  but I'd also urge you to try it with a pale blue. The skirt is $89 full price, avilaalbe in regular, petite, and tall sizes 00-18, and comes down to $53 in the sale.
Diagonal Stripe Wrap Dress – Wow, I love this. It usually drives me batty when patterns don't line up just so, but it looks intentional and artsy here — and the flattering, feminine colors somehow remind me of a tie. The dress is available in regular and petite sizes 00-14, and it's $98 full price, but comes to $58 in the sale. (There are actually a TON of great patterned wrap dresses if you're looking, and this particular pattern also comes in a silky wrap blouse.)
Bird Ruffle Sleeve Top – While ruffles and birds aren't for everyone, I think this top shows that you can still "put a bird on it" and be professional — love the way the pattern just looks abstract at a difference, and the unusual mix of pale peach and a brighter, almost fuschia-like pink in the pattern — interesting and great. The highly-rated top is $79.50, but comes down to $47.70 in the sale — it's available in regular and petite sizes XS-XL.
Sophiticated Textures
Texture is a fabulous way to elevate your wardrobe — depending on how textured a fabric is, it can almost read as a pattern — but it's far easier to mix and match pieces and colors without sticking to neutrals. Ann Taylor's new collection showcases a ton of great textures; some of my favorites include: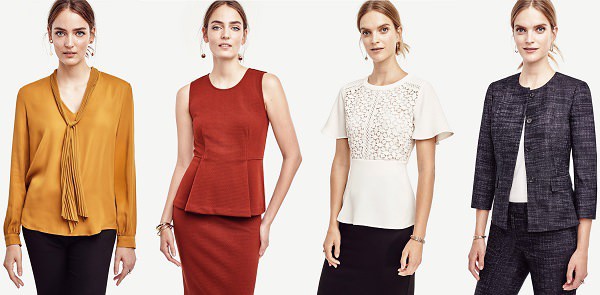 Pictured: blouse / shell / blouse / blazer
Pleated Tie Neck Blouse – The pleated tie neck really elevates this piece — I love the idea of it paired with a really delicate earring or a pendant necklace. It's available in sizes XXS-XXL for $79.50 in black and "golden chartreuse," but during the sale it comes to $47. If you prefer a more boho look, this blouse is similar.
Textured Peplum Shell – This textured peplum shell is everything. It's still soft and easy to wear, but the texture makes it that much more lux. It's available in chestnut and black in sizes XXS-XXL, regular and petite, and (what what?!) comes down to $35 in the sale. (Similar, but in navy: this textured fit and flare dress.)
Lacy Peplum Top – I go back and forth on lace for the office, but I don't think there's anything boudoir about this lacy top, and I love the texture the lace adds. It's available in navy and white for $98 full price in sizes 00-18, but comes down to $59 in the sale. (Two similar pieces, both sleeveless: this lace peplum top in navy and "rosebud blush", and this lace front shell in white and mauve quartz.)
Crosshatch Tweed Suiting – I went back and forth about which picture to show of this suit because all of the pieces are so. dang. good — the flounce dress! the ankle pants! the pencil skirt! the peplum jacket! I love them all, either as separates or as a suit. They're $89-$179 full price, but come down to $53-$107 in the sale.
Classic Shapes
Obviously, we all go to Ann for the classic shapes and styles, and they are still delivering. I didn't intend to pick everything in reds and burgundies — and a lot of these come in multiple colors — but you'll find that burgundy can be a really versatile color, particularly from August through February, whether paired with pale blues, brighter reds and oranges, or basic neutrals like navy, black, white and beige.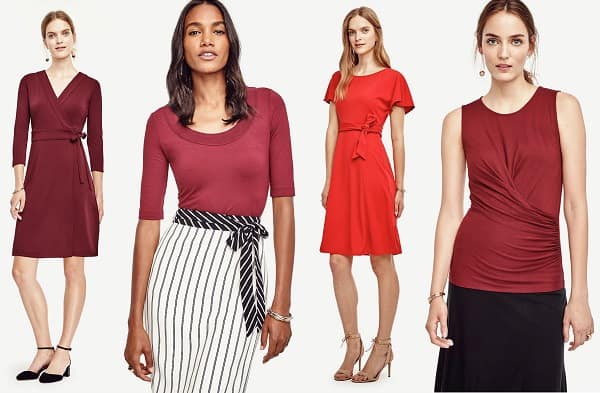 Pictured: dress / top / dress / shell
3/4 Sleeve Wrap Dress – It's so hard to go wrong with a wrap dress, particularly with 3/4 sleeves. I love the "rosy plum" color shown here — wear it with black, navy, white, beige, light blue, pale pink, bright red or orange… the possibilities are endless. The dress is $98 full price, available in regular, petite and tall sizes 00-18, but during the sale it comes to $58. (Love that it's machine washable, too.)
Ballet Neck Top – This close fitting jersey shirt strikes me as the perfect thing to layer beneath suits — the double banding at the ballet neck top adds just enough interest. It's available in regular and petite sizes XXS-XXL in "tawny port" (pictured), black and white, and in the sale it comes down to $29.60.
Belted Flare Dress – I love the looser, drapey sleeves on this belted flare dress, as well as the feminine way they've styled the belt — perfect. It's available in red and navy, in regular and petite sizes 0-14, for $85 (coming down to $51 in the sale).
Ruched Shell – This ruched shell is an amazing piece if you prefer going sleeveless beneath your blazers and cardigans — I love the way it's body conscious and flattering yet also forgiving. It's available exclusively online in five different colors, in regular and petite sizes XXS-XXL, for $39.50 full price — it comes to $24ish in the sale.
Ladies, what have you already gotten at the sale? What are you drooling over, or eager to see if they have new patterns or colors available? (Ann Taylor's next collection hits the site next week — check it out!)