Sure, we all know what basics professional women are supposed to have in their closets, but if you're buying one for the first time or replacing one you've worn into the ground, it can be a pain to find exactly the right incarnation in stores. In "The Hunt," we search the stores for a basic item that every woman should have.
One of our top pages of all time is our regularly updated Guide to Comfortable Heels — and while that guide includes brands outside of those that bill themselves as "comfort" brands, sometimes you just really want a heel that is built like a sneaker, whether for commuting, for long days on your feet, or for general foot problems. Finding stylish "comfort" heels can be a challenge, though, so I thought we'd round some up.
Our Latest Favorite Stylish Comfort Heels
Some of the Hall of Famers are pictured below: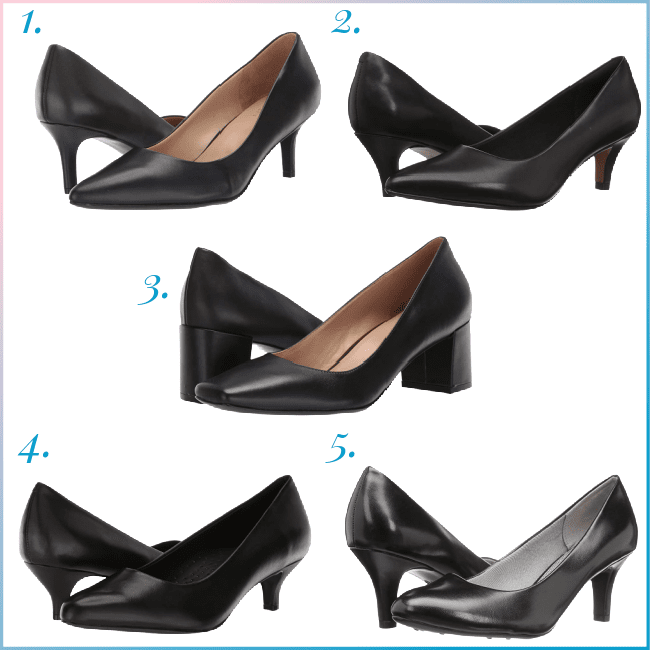 Stylish comfort heels for 2022: 1) Naturalizer 2) Clarks 3) Naturalizer 4) Trotters 5) Lifestride (not pictured but see also!)
In general, check out brands like Clarks, Naturalizer, Trotters, Cole Haan, Vionic, and Lifestride if you're seeking affordable, stylish comfort heels!
Our Latest Favorite Low Heels for Work
These are some of our favorite comfortable low heels for work as of 2023… also check out CK Calvin Klein, Trotters, and Sarah Flynt!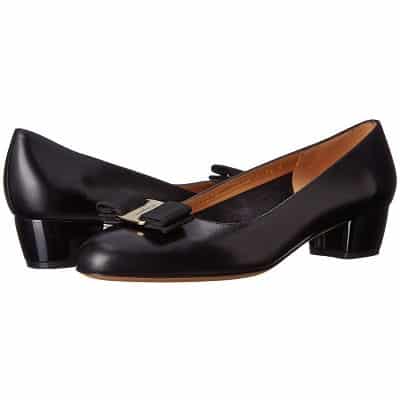 (Curious for our other roundups of black pumps? In addition to the several specific shoes mentioned in our Guide to Comfortable Heels, here are our roundups from 2021, 2018, 2017, 2016, 2016, 2015, 2013 (interview pumps AND our low heel roundup), 2012 (under $250) and 2008, as well as our comfort-focused roundups of 2016 and 2010 and our posts on extended sizes for professional women's shoes.)
Some of our favorites for today include: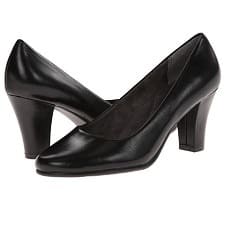 Aerosoles are known for having affordable comfortable shoes, and these 3″ heels have 24 5-star reviews over at Zappos. They incorporate Heel Rest, a "technology designed to distribute your body weight toward your heel, and away from the ball of your foot." They're available in four colors in sizes 5-12 in regular and wide sizes. Another highly rated shoe from this brand: the Domino dress pump — sold out in all colors except navy at Zappos, but Amazon still has it in black and red for $46-$77. Pictured, for $79: Aerosoles Dolled Up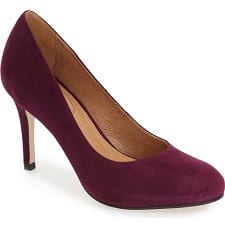 We've featured this shoe a ton over the years (and it's got a zillion great reviews on both Nordstrom and Zappos), but I've never noticed it in any colors but the neutral ones — I'm excited to say it now comes in NINE colors over at Nordstrom, all for $98. Corso Como Del
Even though this platform is higher than what I usually recommend for work (they're .75″ and I usually recommend no higher than .5″), I think these shoes look great for work. They use a Cushion Plus™ technology to ensure "feet are comfy withe very step," and though they only have 3 reviews, they're all five stars. They're available in black suede and patent, as well as this lovely plum suede, for $110 at Zappos. (These are from Clarks' Narrative Collection; note that lots of ladies have also loved the Artisan collection over the years — if you have a strong preference for Artisan you may want to check out these pumps.) Pictured: Clarks Kendra Sienna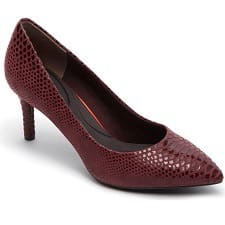 OK. I didn't intend to feature quite so many purple pumps today, but I'm excited about these heels too: the Rockport Total Motion pump has been around for years and is highly rated over at Nordstrom — and now it comes in this lovely burgundy snake print leather (also in a black snake print as well as a ton of solid neutral colors). The shoe is $119-$128 at Nordstrom and Zappos. Rockport Total Motion Pointy Toe Pump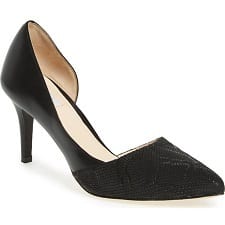 We've drooled over these Cole Haan pumps before, but it's nice to see the ten solid reviews they have over at Nordstrom. Even better: they're on sale! The shoes were $250, but are now marked to $159. (Amazon has more colors, some sizes and colors marked as low as $103.) Cole Haan 'Highline' Half d'Orsay Pump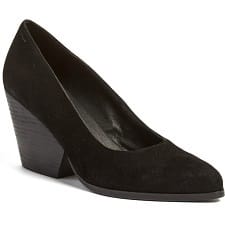 I originally dismissed Eileen Fisher shoes as just another licensed brand name, but their shoes are worth noting if you're looking for comfortable, minimalist styles. I like these architectural block pumps, which feel really modern. They're available in black and gray for $210. (Another modern heel in this price range: these well-reviewed pumps from Paul Green.) Pictured: Eileen Fisher 'Hawk' Block Heel Pump
Ladies, when you're looking for a comfort heel, where do you start the search? Have you bought any amazing, comfortable, stylish heels lately?
Like this feature? Check out other recent installments!
We are a participant in the Amazon Services LLC Associates Program, an affiliate advertising program designed to provide a means for us to earn fees by linking to Amazon.com and affiliated sites.