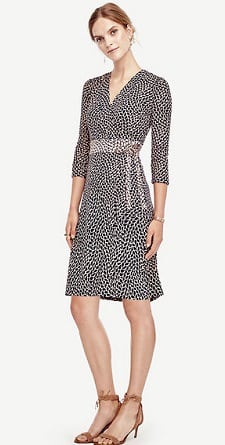 Disclosure: This post is sponsored by Ann Taylor, but written by your regular friendly blogger Kat Griffin.
Happy Sunday, ladies! Ann Taylor's sale section just got even better: you can take an extra 60% off all sale styles, starting now and ending tomorrow night (9/26) at 10PM EST. This is one of my favorite sales of the year, and it can be a great time to stock up on basics, newer trends, and even get multiples of things that you already own and love so much you want them in a second (or third) color. A note up front: there are lots of lucky sizes in the sale, so start by filtering by your size first.
Some of my favorites from the sale include: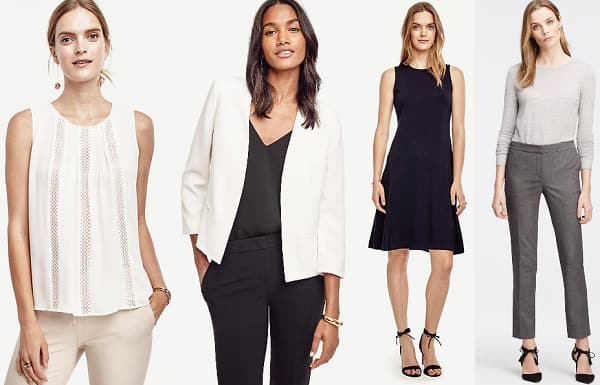 Pictured: shell / blazer / dress / pants
(at very top of post) – There are a ton of wrap dresses in the sale, and they all look amazing. Some of them are only available in lucky sizes, but this leafy wrap dress still has a bunch of sizes left, 00-18, in regular and petite sizes. It was $98 at full price, then marked to $85; with the sale it comes down to $34.
(in collage above) This lacy pleated shell looks lovely — it's available in winter white and black, sizes XXS-XXL (regular and petite), and was $79.50, then marked to $64.99, but it comes down to $26 in the sale.
Also in winter white: this collarless jacket, available in regular and petite sizes 2-16. It was $198, then marked to $170 — with the sale it comes down to $68!!
Oooh: this swaying flare dress looks great for desk to dinner — I like the almost sporty cut of the shoulders and the breezy rayon/spandex blend. It's available in navy, black, and "amethyst haze" for $28 in the sale (originally $98!).
These birdseye ankle pants only come in limited sizes, but they're a great classic piece to stock up. They were originally $129, then marked to $99; with the sale they come down to $39. Nice.
They have some awesome suits and shoes not included in the 60% off sale, but definitely worth checking out as well. Ladies, what are you eager to get at Ann Taylor?
Thank you to Ann Taylor for sponsoring this post!
(L-all)