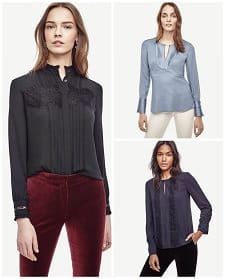 This post is sponsored by Ann Taylor, but written by your regular friendly blogger Kat.
Happy Thanksgiving! Ann Taylor is kicking off Thanksgiving with some great sales, including 50% off everything. They've also got a ton of new arrivals that are perfect for work and beyond; some of my favorites are below.
At top: I also love these blouses — they look cool but professional at the same time:  black / light blue / navy — they're $69.50-$89.50 full price, all available in regular and petite sizes XXS-XXL.
Some of my fall workwear favorites :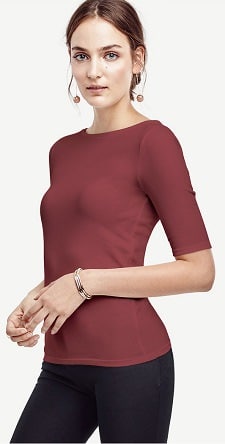 I always love these kinds of t-shirts — they're machine washable, go with everything (casual to formal) — and they're a lot nicer than your regular t-shirt. I'm always a fan of the elbow-sleeve length beneath blazers, but note that the top also comes in a long-sleeved style. (If you prefer a heavier weight material, there's a very similar elbow-sleeve boatneck in ponte (note that the ponte version is dry clean only).) The pictured shirt is $34.50 full price, available exclusively online in four colors, sizes XXS-XXL. Stretch Cotton Boatneck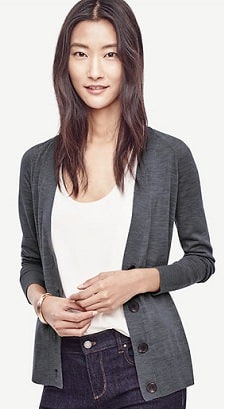 Merino wool cardigans (and sweaters in general) are among my favorites — they hold their shape better and are a TON warmer than cotton, yet they're thinner and more durable than cashmere. This merino wool boyfriend cardigan looks gorgeous, is really well-reviewed, and is almost sold out in mauve, which says a lot. I've pictured a nice "shale gray," but there are a ton of sizes left in the other four colors it comes in — sizes XXS-XXL, full price at $79.50. Merino Wool Boyfriend Cardigan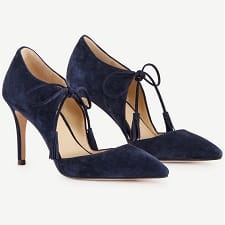 Ooooooooh: I love these suede tassel pumps, full priced at $138. They're available in navy and "iron grey" suede, and something about the angles of this have me drooling. They're available in sizes 5-11. Adalaide Suede Tassel Pumps
I'm a big fan of the "festive blazer" to wear to staff office parties (and to throw on top of jeans and dresses for other events), and this diamond textured single button blazer looks like a great one for just that purpose. (This floral jacquard blazer is also nice.) The blazer is $169 full price, available in sizes 00-18 in regular and petite. Diamond Textured Single Button Blazer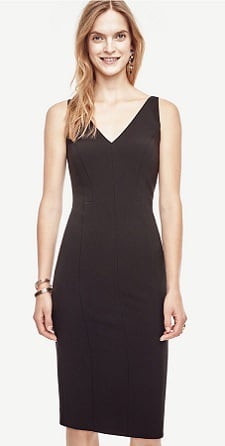 This triacetate seamed sheath dress looks all sorts of perfect. I love the tailored, fitted look the seams give in the front, and the work-appropriate length, combined with the classic style. It's available online exclusively, sizes 00-18, priced at $169 full price. Triacetate Seamed Sheath Dress
Ann Taylor has a TON of great options for party dressing, also — pictured below:
sequin skirt / gold jacquard dress / lace peplum top / velvet bow clutch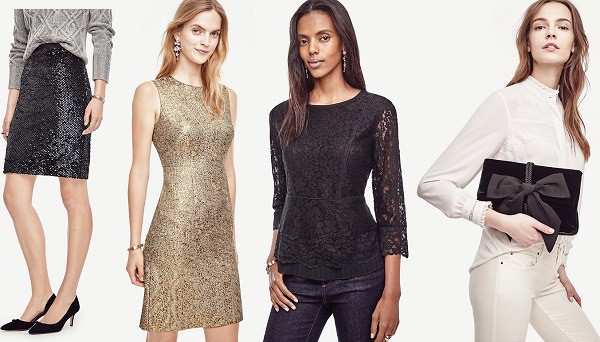 Thank you so much to Ann Taylor for sponsoring this post!
(L-all)