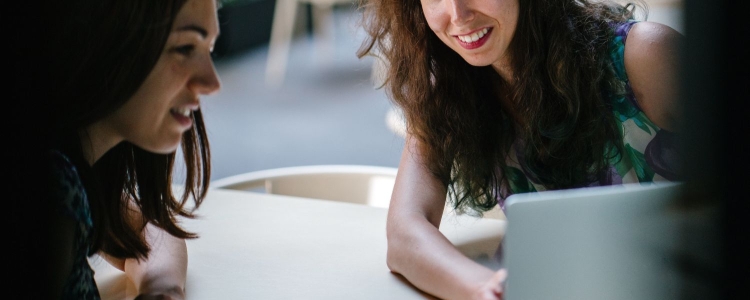 That's the question that a recent ABA headline blared: Are YOU paying enough attention to upward mobility, ladies? Let's discuss… or, you know, mock relentlessly. Your choice!
Big thanks to a reader at CorporetteMoms who alerted us to the piece, commenting, "Is anyone else as angry as Tracy LeRoy is that the ABA [Journal] published a piece about how women lawyers who are mothers are terrible managers, overly perfectionist, and don't support other team members?" Corporette readers were also discussing it a bit yesterday. With that kind of question we had to look closer — and we'll be discussing it both here and at CorporetteMoms today.
So this is an opinion piece in the ABA Journal, and after the outrage started, they hastily slapped on a disclaimer: "The ABA is deeply committed to securing the full and equal participation of women in the ABA, the profession and the justice system. The ABA Journal is committed to covering all issues of importance to women in the law, and we acknowledge the many concerns expressed to us by those offended by this piece." Alrighty then!
Here's the info provided about the author of the piece:
Susan Smith Blakely is a former partner, law career counselor and the author of the Best Friends at the Bar book series for female lawyers. Her most recent book is What Millennial Lawyers Want: A Bridge from the Past to the Future of Law Practice. (Apparently, in past publications she's advised women to "stop complaining and show 'true grit.'")
Her essential point in the piece is that people who don't focus on "team building" and "career mentoring" are unlikely to be promoted to partner. She specifically targets lawyers who are mothers, saying that they "live only in the moment" while putting in "their best efforts in keeping all the balls in the air," and fail to see that "a career is not just about personal success." What moms aren't doing enough is thinking of the FIRM.
More and more law firms are taking the team approach, and all members of the team have to be able to count on each other. Team members have to know that help is around the corner, and that emails will be returned with valuable information and in time to put out the wildfires. And those requirements are equally true for women lawyers—whether they have children or not.

Motherhood is demanding. Too often, lawyer moms are so stretched and overscheduled that they cannot easily find time in their days to assist others. They focus on their own workloads and maximize their time between arrival at the office/logging in and leaving the office/logging out. Many of them do not take lunch breaks or have many conversations with colleagues, and they lose interest in promoting new work for the law firm, developing clients and attending firm social events. They are exhausted.
Smith Blakely notes that lawyer moms are their "own worst enemies," writing that they're typically perfectionists, and "end up sacrificing good performance on the altar of perfection." She notes that these busy moms don't have time to give quality feedback to the young lawyers reporting to them.
But it is not only the young associates who notice. Promotion committees understand that a manager who shows little interest in the careers of his or her reports impacts the "growth mindset" considered essential to the upward mobility of young lawyers and success for the firm. … Effective mentoring and leadership are essential to successful business models, and as challenging as it can be for lawyer moms, they must be willing to be team players and invest time in the careers of others.
She ends by saying that these women "should be the survivors and future leaders we know they can be."
Um.
A partner at law firm Yetter Coleman LLP, Tracy LeRoy, took issue with the opinion piece and the ABA Journal's publication of it, noting that
The most damaging aspect of this column is the claim that lawyers who are mothers are the worst managers and not team players. The author blithely advises that people who are not good managers — including, apparently, any lawyer who is a mother — just need to do more to prove themselves and work harder at these skills. Completely ignoring decades of implicit bias hampering women's rise to partnership, the author posits that lawyers who are mothers just don't want to do the work to be promoted and therefore can't complain when they aren't.

This claim supports and encourages three false stereotypes: (a) that women don't help other women; (b) that women are bad leaders in the workplace; and (c) that mothers are unable to give bandwidth outside their own families to assist others.
She goes on to note that in her experience senior women are some of the MOST gracious with their time and energy in fielding all matters of questions from junior associates, and that in BigLaw, "senior women partners bear a heavier administrative load because firms want diverse practice group leaders, committees, and task groups — and women take it on because we know that our presence will make for a better product for our firm and our clients."
I'm curious what you think, readers, but I tend to agree with LeRoy in my experience with the women lawyers who are mothers whom I've worked with. I also tend to agree with LeRoy that pieces like the one Smith Blakely wrote (and the ABA Journal published) are what drive mothers OUT of law firms, or make them decide not to have kids at all. (There's also something to be said about the fact that many women may have a clear view of their career goals, and those goals may not include equity partnership, which, after all, has been often described as a pie-eating contest where the prize is more pie.)
So what do you think? Some questions to focus the discussion — please note in your comment whether you're a parent or not.
Do you think Smith Blakely was correct that mentorship and quality feedback are among the top qualities that law firms are looking for when they choose who to promote?
Whether you're a lawyer or not, do you think the "three false stereotypes" LeRoy noted exist at your company?
What have you seen your company/firm do to dispel the stereotypes and retain women?
Stock photo (women mentoring each other!) via Stencil.