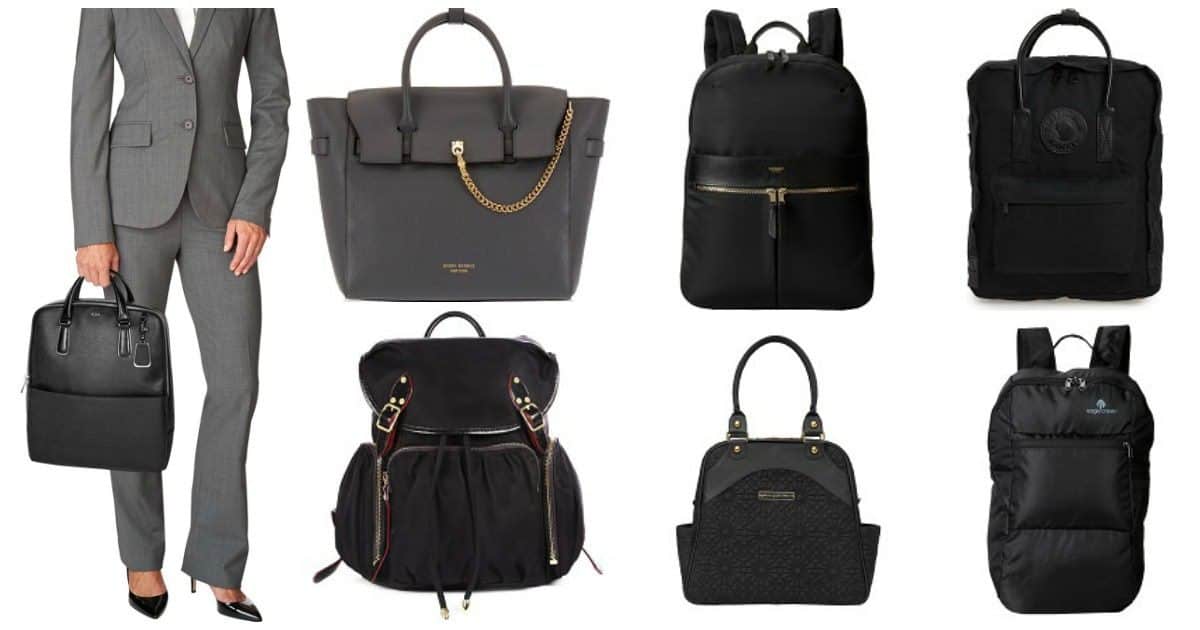 Are there any backpacks that are stylish and large enough to hold file folders, binders and more on your commute from work? Backpacks are super trendy right now, but all of the really stylish bags are far too small for file folders or work papers. I was just at an event where I saw a young lawyer carrying a large, stylish backpack and my first thought was, good for her — whether she's biking to work, walking to work, or just watching out for back problems down the line, it's a smart move. Coincidentally, I also recently got a question from Reader B, who wants to start walking to work and carrying large files — so I thought we'd go on a mini-Hunt. Here's B's question:
I'm looking to start walking to work more as I recently bought a home which sits about a mile away from my office. However, I'm an attorney and am often carrying case files and other paperwork back and forth. Tote bags, no matter what the straps are like, begin to hurt my shoulders on this. I know a backpack would solve the problem but as a relatively young professional, I'm afraid to look like I can't let go of my college backpack days. Is it ever acceptable to wear a backpack to the office
Interesting question, B — I've written before of my love of walking to work, but I'll admit that for any real file carrying I took cabs and client-paid cars to and from the office.  
A few notes on tote bags, just at the outset: first, note that a leather bag is going to be far, far heavier than a nylon tote for work — and that I always found a single shoulder strap to be more comfortable for a long schlep. (You may also want to check out our advice on how to lighten your load, as well as our discussion on how many bags you bring to work.)
Still, if you're already feeling pain, there are a ton of backpacks right now that distribute the weight better across your back — I've rounded up a few of my top picks below, ranging from $29-$550.  
Readers, would you consider wearing a backpack to work? Have you bought any backpacks for work lately that you love — and what qualities make one more or less professional and stylish in your mind?
Stylish backpacks for work, pictured below: one / two / three / four (also: not pictured but great – also check out this line of waterproof backpacks!)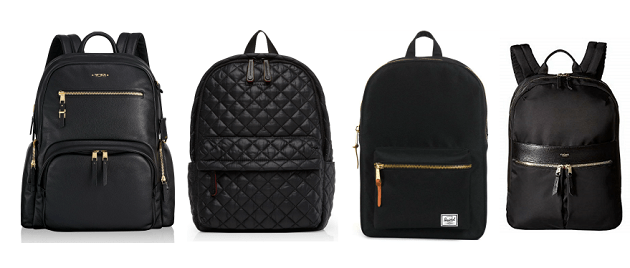 This one is very "I'm off to backpack through the woods for 3 days" but I'm including it because it's totally packable — it compresses down to a tiny pocket. If you sometimes need to carry stuff home — and sometimes don't — this bag would be the one I'd pick to keep at the office, or throw in my regular tote bag. Plus, it's only $30. (This Herschel Supply Co. bag is very similar, also $30, and higher rated — I'm just not a fan of the big logo on the front.) Pictured: Eagle Creek Packable Daypack
This one I almost didn't include because it looks a bit like it was intended for Swedish schoolchildren, which it was. Still: it's very hip right now, is water resistant, looks large enough to be functional, could be carried as a satchel, and is only $130. It comes in a zillion rainbow colors, but the black on black one is my favorite. Fjällräven 'Kånken No. 2' Water Resistant Backpack
This may be an odd suggestion, but it's one of the only convertible bags I've seen that looks big enough for files, and converts nicely into a shoulder bag. Sure, it's technically a diaper bag — but just ditch the diaper changing pad and wipes container. It's $189 at Zappos. (This Botkier bag is almost twice as much but also looks good as a shoulder bag/backpack combo.) (2019 Update: Unfortunately this exact bag has sold out, but convertible backpack diaper bags are reliable options if you're looking for a BIG bag that's vaguely stylish.)
We've featured Bendel's Jetsetter backpack before, and this Gramercy Convertible Backpack is another one to consider — it's super stylish and looks great as a satchel, but also converts to a backpack and a crossbody. At 11.5″H X 15.5″W X 5.5″D, it should be big enough for letter-sized papers as well. It's $450 at Bendel's. Gramercy Convertible Backpack (2019 Update: Alas, Bendel's has shuttered. This bag looks similar.)
Ladies, do you wear backpacks on your commute? Which are your favorites?
Psst: these are some interesting products to help you cool down or stay cool on your commute…

Please note: This post was originally published in September 2016, but we've updated links in Sept. 2020 except where otherwise noted.