Sure, we all know what wardrobe essentials for work professional women are supposed to have in their closets, but if you're buying one for the first time or replacing one you've worn into the ground, it can be a pain to find exactly the right incarnation in stores. In "The Hunt," we search the stores for a basic item that every woman should have.
If you had an unlimited budget, what would your work bag be? We thought we'd go on a hunt for the best luxury work bags…
I remember years ago discussing the Prada Saffiano tote — the general consensus at the time was that NO, you do not need a super fancy, expensive, designer luxury work bag. In the years since, a ton of readers with big jobs (partner, C-suite, etc) have noted that they adore this $578 bag (frequently on sale!) and any of these $400-$700 bags — and it's probably worth noting that these can be more functional, as well, since they are designed to hold laptops and, in many cases, fit over the handle of a rolling suitcase.
(In fact, we've even discussed how in some situations, carrying a bag that is obviously expensive can work against you, particularly in situations where you're representing people other than yourself. Or, you know, if you're an intern carrying a $9000 handbag. Know your office and your job!)
Still — there have been a lot of reader discussions recently where women are looking to splurge on bags, so I thought we'd do a roundup of the best ones if you ARE on the hunt for a luxury work bag.
(We've also discussed when "must" you carry a designer bag to work — and how to deal when your offensive client uses your designer bag to "joke" that he's paying you too much. Ah yes, and how to deal when your boss tells you dress too well — or perhaps just feels bad that you're dressing better than your boss. Aw, and Jean from Extra Petite rounded up her favorite stylish work bags for us.)
This post contains affiliate links and Corporette® may earn commissions for purchases made through links in this post. For more details see here. Thank you so much for your support!
We are a participant in the Amazon Services LLC Associates Program, an affiliate advertising program designed to provide a means for us to earn fees by linking to Amazon.com and affiliated sites.
Some of Our General Favorite Work Bags for Women of 2023
These start as low as $50! Note also that, while we'll go through the best luxury work bags in a bit, there are a TON of our readers who have big jobs (law partner/C-suite type jobs) who adore this $578 bag (frequently on sale!) and any of these $400-$700 bags.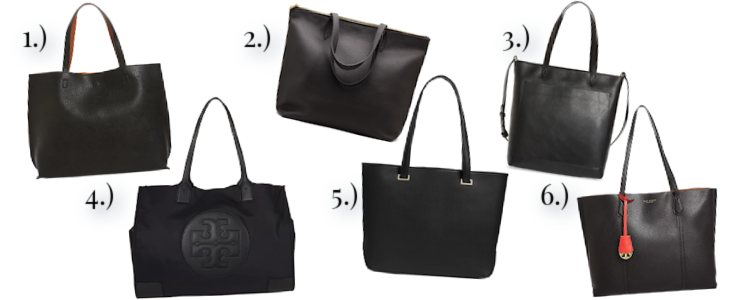 (Looking for a luxury work bag? Here's our latest roundup…)
Some Of The Best Laptop Totes (Reader Favorites!)
The Best Backpacks for Work in General
Update: Hunting for the best work backpacks? Some of our favorites in 2023 are below — see the full post for all the details!
The Overall Best Work Backpack
The Best Convertible Laptop Backpack
The Best Affordable Backpack for Work
The Best Luxury Backpacks for Work
Looking for work backpacks to splurge on? Montblanc, MCM and Senreve are great, and Valextra has some men's backpacks that look perfect.
The Best Luxury Work Bags of 2023
Kaai
We featured this bag from Kaai a few weeks ago in a dusty blue, and it's still on my mind. It's definitely a bit of a splurge, but I love the origami-like folded leather.
Their pyramid tote fits a 15.6″ laptop, has a zippered top (YAAAS), and is $799. The brand is sold in a lot of places in Europe, or you can get free worldwide delivery on orders over $125.
Mulberry
Mulberry has been around for years, but is having a bit of a trendy moment — the brand is known for their understated sophistication. I like the "iconic postman's lock" and the interior removable flap pocket. This one is only 14″ wide, so it won't be big enough for most laptops, alas.
This bag is $900 at Nordstrom.
(Also around this price range: these gorgeous totes from Strathberry!)
Louboutin
Louboutin has a nice selection of interesting (but not TOO interesting) leather work bags. I'm loving this one with embossing and metal spike details — all with pops of that classic Louboutin red.
This bag is $1850 at Nordstrom and other department stores.
Burberry bags are also around this price range — they have some truly beautiful embossed totes that keep selling out at department stores.
McQueen
We've featured the Tall Story tote from McQueen before — if you're a fan of north/south totes (and, well, have almost $2000), this one is definitely for you.
I think this one will carry the least of all of the ones we've mentioned thus far, in large part because it's more structured. I love the tucked leather details on the front, and the small, architectural handles as well as the longer, over-the-shoulder handles.
The bag was originally $2890 at Nordstrom, but is currently 40% off. (Woot!) Bergdorf has it with gold accents and pops of red for $2590.
(Also around this price range: this gorgeous Tom Ford tote!)
Chanel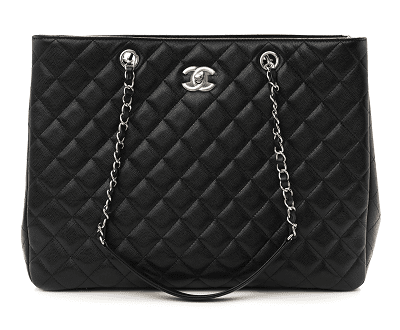 Chanel tote bags aren't sold online — but we'd be remiss to not include the brand. Their basic leather shopper tote has been around for ages, and while it's on the smaller side, it's a total classic.
These bags are around $5800 — contact your local Chanel store for more details. (If you know what you're doing, you can also find a ton of them on resale sites.)
Readers, what are your thoughts — what are the best luxury work bags for women?
Like this feature? Check out other recent installments!