Our daily TPS reports suggest one piece of work-appropriate attire in a range of prices.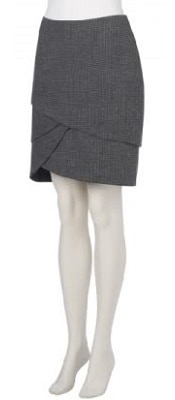 The Limited has a lot of suiting on work pieces on sale right now, and reader K asked for our thoughts on this skirt.  "I think it's really fun and might be work-worthy with a good button down. Wondering if the 'petal' effect might make it too short for the office?"  We do like the look of this piece, and agree with the reader that it looks fun and interesting — although with the obvious caveat that it's a little short.  If you're petite, though, or happen to have short legs, this skirt might just hit you at the right point — which we would say would be just at your knee, with the petal part being just above the knee.  (We're talking centimeters, not inches, here.)  We'd probably wear it with a sweater set rather than a buttoned shirt, but that's just us.  The skirt is regularly $69, but it's free with any purchase of a jacket during The Limited's current promotion.  Petal Pencil Skirt
If you've recently seen a great work piece you'd like to recommend to the readers, please e-mail [email protected] with "TPS" in the subject line. Unless you ask otherwise, we'll refer to you by your first initial.