Liking these posts? Follow us on Twitter or fan us on Facebook — this is the edited version of what we're reading! (We also Tweet if we hear about a good sale.)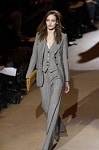 – The WSJ has a very interesting pair of articles right now — first, an article about how the Working Woman is fashion's new muse — and then, a post about how this is all a little reminiscent of the Charlie Girl days of the mid-70s, when, as Christina Binkley says, Charlie "held the hopes and aspirations for a generation of women who thought they were headed for board rooms by day, and nightclubs by evening."
– The L.A. Times rounds up the top 5 women's looks for fall 2010.
– The Chicago Tribune has some thoughtful advice on where to get vintage jewelry.
– Mint.com busts some myths about your credit score (including the one about how checking your credit score makes it go down).
– This was one piece of advice we never would have thought about, so we had to pass it on:  if you're getting fired, Wisebread feeds you the one question to ask in order to get free money.
– Finally, Lifehacker has a great post on things to buy in March.