Our daily TPS reports suggest one piece of work-appropriate attire in a range of prices.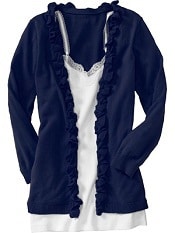 We've liked a lot of the ruffle cardigans we've seen this season, but have been flummoxed by the asymmetrical or uneven ruffle effect we've seen on a lot of them — some only have details on one side of the neck, others on one shoulder, etc.  We like this Old Navy open-front cardigan for the evenly spaced ruffles — and we love the navy, pictured.  It's $29, only at OldNavy.com (which is having pretty good sales anyway), and is available in navy, black, white, a taupey gray, peach, and a coral pink, in limited sizes (generally M-XXL).  Old Navy Womens Ruffle-Trim Open-Front Cardigans
If you've recently seen a great work piece you'd like to recommend to the readers, please e-mail [email protected] with "TPS" in the subject line. Unless you ask otherwise, we'll refer to you by your first initial.