Liking these posts? Follow us on Twitter or fan us on Facebook — this is the edited version of what we're reading! (We also Tweet if we hear about a good sale.)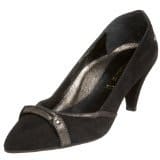 – The LA Times reports on "high-heeled shoes your feet won't hate you for" from designer Dana Davis.  (We like the Dana Davis Women's Abetona Pump, pictured — available at Endless for $217 (formerly $395).  Meanwhile, Jauntsetter sings the praises of these Bass
sandals as being perfect for sightseeing and shopping.
– The Wall Street Journal reports on new findings that women need at least 60 minutes of daily exercise to ward off weight gain.
– Forbes has an interesting story about office friendships.
– Lifehacker has a great tip on how to chill your wine fast.
In Admin news…
So far, this is what our survey results are telling us — if you don't agree, please take the survey yourself. (It's really short, promise!)
44.4% of you are 22-28, and 31.5% of you are 29-36.
73.6% of you are married or in a long-term relationship.  78.9% of you have zero children.
85.8% of you are Caucasian.
30.8% of you make less than $50K per year (we're guessing that's because a number of you are still in school), with 27.8% of you making between $100K-$200K.  (0.3% of you make more than $500K a year — nicely done, ladies!)
61.5% of you have a B.A., and 53.8% of you have a JD.  (Only 4.7% of you have an MBA — if anyone has any tips on how we can bring the women MBAs into the fold, please e-mail me at [email protected])
30.7% of you have just started your career (years 0-3), while the next highest percentage, 24.2%, have been at it for 3-8 years.
38.0% of you estimated you spent between $1000-$2500 on clothes in 2009, with 30.1% estimating you spent between $500-$1000.
Overall, you guys seem really happy with your careers, with "it's great" being the top choice for all of the factors we laid out.
33.0% of you say you are a size M, while 27.1% of you say you are a size S.