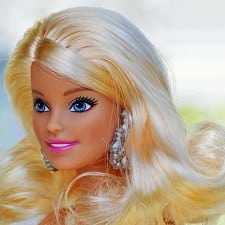 Does the shade of your hair color really matter at work — is there a certain best shade of blonde for being taken seriously at work? We've talked about rocking long platinum blonde hair at work before, but not in a while — and  reader A, a law student, has a question about whether golden shades of blonde, bright blonde hair, or dirty blonde hair is best for being taken seriously at work. Here's the question:
I have naturally dirty blonde hair, but highlight it a light golden shade. I'm a young 1L with a young face and frequently get mistaken for an undergrad and occasionally a high school student. Last time I went to get my roots touched up, my stylist turned my hair ashy blonde w/ dark lowlights at the ends. My friend said I should keep it because it was more "professional." But golden blonde feels more "me." Am I hurting my reputation and job prospects by keeping my hair bright blonde?
Well. We haven't done a hair-for-work question like this in a while, and I'm curious to hear what readers say.  For my $.02, I think any shade of blonde hair is professional so long as you, yourself, are a professional and act like one. (I'm reminding myself of that "how to get a bikini body" joke that was circulating a year or two ago.)  In general, I think that acting older is better than looking older — and as long as you aren't twirling your hair, playing with it, and keep it well-maintained (roots and ends) there's no problem. Of course, there's a heavy component here to knowing your office once you start work, particularly the personalities in your office — if you suspect a senior colleague wouldn't give you work or take you to client meetings or the like because he or she objects to your appearance, then you may want to consider changing your hair to fit in better at work.  This may be perfecting an updo for work or, yes, dying your hair a different shade. I will also note that once you start work you may find that you need to factor in the time needed to maintain your hair — spending hours at the salon on a monthly basis may be prohibitive for your work/life balance.
That's my $.02, but I'm curious to hear what the readers say — do you think there is a "best" shade of blonde hair for being taken seriously at work? If you are a blonde, have you experienced any prejudice at the office because someone thought your blonde hair was not professional? What would you advice a law student about to interview regarding hair color — should she stick with a darker shade of blonde for interviews and the first few weeks of work, and then lighten her locks after she's proven her mettle? 
Updated: I was sad to see that several commenters took issue with the very subject of this post, although I will point out that the actual advice given in the post aligns pretty much with what their arguments were: hair color doesn't matter so much as being a professional does. From my perspective, I'm always honored when a 1L or other young woman writes to me with a question like this because where else is she going to go with this kind of question? I remember being invited to attend a court hearing for the first time (as a summer associate) and wondering if I had to wear a skirt suit (and hose?!?), and being fantastically embarrassed to call the senior associate on the case to ask the question — what a lightweight I must seem! How many stupid questions was I going to waste her time on?! I desperately wanted to do the right thing — not make a faux pas or gaffe one way or another — yet I had no tools to figure out what "the right thing" was without calling the associate. That experience, and others, are part of what inspired this blog, and what drives it still. This blog IS supposed to be that safe space to ask "lightweight" questions… yes, including whether that thing your hairdresser told you about your blonde hair being unprofessional is true. Thank you to the commenters who weighed in on the issue the 1L was concerned about.
Pictured: Pixabay.