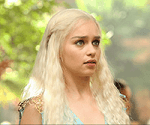 2017 Update: We still stand by this advice below about long platinum blonde hair at work, but you may also want to check out our latest discussion of the best shade of blonde hair for being taken seriously at work.
This is a perennial question:  is long hair professional? And a corrollary: is long platinum blonde hair professional? Reader K wonders:
I'm a law student with upcoming fall recruiting, and want advice for doing my hair for interviews. I have naturally platinum blonde hair (which is long – about 4″ below the shoulder). It makes me look younger than I am, but I don't want to dye it or cut it short. How do I make it look professional and say, "I am not an airhead" for interviews?
I'm curious what the readers are going to have to say about this one, because we haven't talked about long hair for the office in a long while, and I don't think we've ever talked about platinum blonde hair. (Pictured: If you're not watching HBO's Game of Thrones yet, I highly recommend it — the first season just ended.)
First: Is Long Hair Professional?
I know a lot of other sources say that long hair is unprofessional — it makes young women look younger, and older women are too old for long hair. Here's my strongest argument for why long hair is totally fine:  Long hair, for some women, is the EASIEST. It's easiest to pull back into a professional-looking updo (French twist, bun, low neat ponytail), and it's easiest to maintain in the morning without too much styling. Personally, I prefer to wear my hair below my shoulders because when it's shorter, it's natural shape creates a "triangle head" look (which, trust me, is about as flattering as it sounds) and it requires 15+ minutes of styling in the morning (versus the 5 minutes I can get away with for longer hair, where the length and weight of my hair keeps it from creating a triangle shape). Furthermore, I know several very established and accomplished lawyers who look gorgeous and professional with their long hair, and I can think of a lot of others in the media spotlight — in the real world think Maria Shriver or Huma Abedin; in the fictional world think Dr. Lisa Cuddy, Veronica Palmer, or Jane Bingum.
That said, there are some limits and rules to "long hair." My rules would be:
You are never, ever, ever allowed to play with it. No twirling, no repeated smoothing of it, and certainly no absent-minded chewing or braiding of it during meetings.
Your hair shouldn't be overly long. I've said before that I think hair that approaches your bra strap (in the back) is too long. I've gotten some pushback on that from readers, and even though I agree that longer lengths can look professional on some women, I would still use the bra strap benchmark as the "it's time to question whether you should get a hair cut." For reader K, 4″ below the shoulder sounds like she might be approaching the bra strap.
Long hair must be maintained well — the ends should be trimmed and shaped regularly, and if you have frizziness issues you should be taking steps to combat them (conditioners, etc).
Second:  Is Platinum Hair Professional?
For my $.02, as long as it's natural, rock out with your bad self. I would even say that platinum highlights on dirty blonde hair are fine — I have one friend whose hair has changed from platinum to dirty blonde as she's gotten older, and she does upkeep to keep it blonder. On the other hand — I think it's the rare woman who can change her hair color entirely and go platinum blonde. Furthermore, I'd say that any dyed hair that has that crunchy, "if it's pulled too tight it might break off" look is not professional.
Third: How Should Long Hair Be Worn for Interviews?
2017 Update: You may want to see our entire discussion of how to style long hair for interviews.
For the most part, I think long hair can be worn long and neatly parted for interviews. For all those JD and MBA students going into an intense interview week, you might consider getting a blowout if your hair looks better with one — nothing too bouncy, but just simple, straight, silky hair — and then rocking that for a few days. For interviews, I think an "I intended this" updo or half-updo is fine — think a French twist, a bun, a hair-pulled-half-back-and-bound-with-simple-barrette, maybe even a very neat ponytail with your hair wrapped around the elastic. My only caution would be that you should avoid the "I suddenly got hot/tired of having long hair and yanked it back into a sloppy ponytail/bun with this elastic that has lived on my wrist for the past two months."
OK — that's my advice. Readers, let's hear it — what are your thoughts on long hair? Platinum hair? Interview hair? Is there an age limit for longer hair? How long is too long?