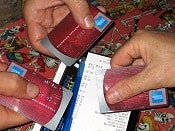 2020 Update: We still stand by this advice on when do you offer to pay for your share of lunch — links have also been updated below.
What is good business lunch etiquette where interns or summer associates are concerned — when should you offer to pay for your share of lunch? In general, when in business settings should you offer to pay? Reader S, about to be a summer associate at a law firm, wonders…
During summer social events, what is the protocol for paying for your share of the festivities / food / drink? I don't want to be entitled but I also don't know who to ask about paying. I might be over-thinking things a little, but I wanted to see if there was a polite (and non-awkward) way of asking about these things.
I think this is a great question — you hear a lot about summer associates being entitled, and it's nice to hear someone wanting to contribute. We've talked about some good business lunch tips before, but we haven't talked about when to pay. I'm curious to hear what readers say here, but for my $.02, this is how I look at it:
– If you're at a social event organized by the firm for all of the interns, assume you're not paying anything. Cocktail parties, after parties, bowling parties, whatever — if it's a group event it's paid for.
– If you're out to lunch with fellow interns and no one has a company credit card, expect to pay your own way. (In some circumstances it might be appropriate to submit the receipt for reimbursement, but most of the time it probably won't be.)
– If you're out to lunch with more senior colleagues as well as interns, it doesn't hurt to ask if you can pay (but I'd be shocked if you had to). A simple, "Do I owe you anything?" or "can I throw my card down too?" may read as "oh how refreshing to see someone who isn't entitled" the first few times you do it (but may get more annoying as the summer wears on).
– If you're out to lunch with one other person (an older colleague, a partner, etc), you may want to consider offering to pick up the bill entirely — if they've been helpful to you, given you great advice, taken time out of their day to spend time with you, etc — but again, I'd be shocked if you had to pay, particularly if they have a business account (but even if not — most people have a "pay it backwards" attitude since they remember others paying for them when they were young).
Readers, what do you think? When in a business situation is it appropriate to offer to pay? Do you think it ever hurts to offer to pay?
Pictured above: Triple AmEx Bonus Round!, originally uploaded to Flickr by pnoeric.
Picture below via Flickr.