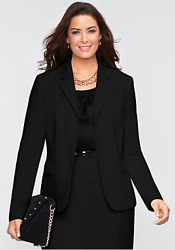 How can you feel confident during an interview when you don't feel the best in your clothes? A petite and plus-sized reader wonders how she can look her best, short of losing 40 pounds in a week:
Interview suits for the short and round. Please help!

I admit it. At 5'2″ and a size 14/16 I am both short and fat (sigh! it kind of got away from me). For everyday work wear this isn't really an issue, but what on earth do I wear for a job interview?

Suits typically come to mind for interviews, but with my lack of height and overall ROUNDness, typical business suits (pant or skirt) really aren't all that flattering on me. They tend to make me look even shorter and well, dumpy.

Short of losing 40 pounds in a week, what job interview looks would you suggest?

Note: I'm not in an ultra-conservative industry, but this would be for management level positions.

Thanks for any guidance!
We've recently rounded up the best stores for plus-sized workwear (including for petites and sizes 16-18), we've talked in the past about how to buy (or tailor) a great plus-sized blazer, and of course we have our Guide to Interview Suits, but nothing quite addresses this. And I can suggest a few suits for Reader M (such as the pictured Talbots suit or this Pendleton suit available up to 18P), but that doesn't totally address the situation here (at least the one that I'm seeing when I read between the lines):  your confidence is taking a hit because of how you look. [Read more…]