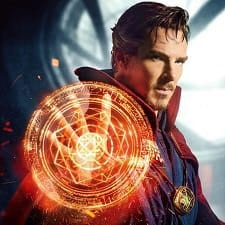 So here's a random, fun question for today: who are your celebrity crushes; who do you admire? Who's your Internet boyfriend or girlfriend — who's your spirit animal — who's your hypothetical best friend? (On the flip side, are there any celebrities you absolutely can't stand? I have three actors who I will almost never watch in a movie…)
For my $.02:
Celebrity crush: The usual suspects, I guess; Benedict Cumberbatch (pictured here from Doctor Strange), Matt Smith, Idris Elba, Ashton Kutcher… in years past Clive Owen, Keanu Reeves, Bill Pullman, George Clooney. Like everyone else I thought Oscar Isaac was great in the last Star Wars. I also kind of have a thing for Adam Driver — I passed him once on the street in Brooklyn and was really surprised by how "leading man" he seems in person; at the time I only knew him from Girls. On the lady side I always admire Emma Watson, Zoe Saldana, Cate Blanchett, Jennifer Lawrence, and more recently Charlize Theron, often for their fashion risks as much as the roles they take.
Spirit animal / person who you recognize a bit of yourself in: Maybe Keri Russell's character in The Americans? She has a cool, almost cold way of looking at situations that I recognize in myself, but I lack her black/white view of the world. (Also, you know, I'm not a trained killer.) I might also put Bethenny Frankel in this category, although there are a ton of differences between us.
Hypothetical best friend / person you'd actually like to have a drink with: Probably a comedienne of some kind — Julia Louis-Dreyfus or Tina Fey, maybe Emma Stone or Melissa McCarthy. I also like Jill Kargman (creator/actress of Odd Mom Out). I might put Stacy London, Tim Gunn, or Susannah Martin (from the old BBC version of What Not to Wear) here too. I'd probably put Oprah on this list also.
Actors I cannot abide: Nicholas Cage, Kevin Costner, and Bill Paxton. (Aliens is one of my husband's favorite movies and we joke that I can only stand watching Paxton in it because he dies a violent death.)
I'm sure there are others that I'm forgetting — I'm looking forward to your lists in part so I can so OH YEAH I FORGOT ABOUT ____! (Ah, for the days when we had them all on posters around the room…)
Ladies, how about you? Who are your big crushes? Which celebrities do you watch for at awards shows — and which ones are you most likely to go see a movie just based on their star power alone?