Sure, we all know what basics professional women are supposed to have in their closets, but if you're buying one for the first time or replacing one you've worn into the ground, it can be a pain to find exactly the right incarnation in stores. In "The Hunt," we search the stores for a basic item that every woman should have.
After the weekend we've had (thank you Jonas), it may seem a bit silly to talk about professional-looking coats — after all, when it's freezing, nasty and disgusting outside, being warm and dry are the primary considerations.
Particularly when working from home is easier than ever, if you make it into the office at all, no one should be judging you for blizzard attire like an expedition coat and Sorels. But it isn't blizzarding every day in the winter, and I still think a wool coat (or, fine, even a slim-fit puffer coat like some of the ones we featured on our roundup of washable coats for CorporetteMoms) does look more professional.  
Shop for a winter coat that covers your thighs (for warmth, as well as the most versatility — nothing looks quite so silly as a peacoat and skirt), and be sure to size up if you need to to accommodate a sweater or blazer beneath your coat.
(Other great layers: silk turtlenecks and long johns can add serious warmth without bulk, and there are so many puffer/fleece vests that I'm kind of tempted to try them under my winter coat on really cold days.)
I've always looked for a wool/cashmere blend as the best (the cashmere makes it warm; the wool makes it durable), but I've also heard great things about alpaca's warmth; these days you can find technical enhancements to wool like Lands' End (pictured after the jump; it's good to 10 below!!) or lined with thinsulate, like some J.Crew and LL Bean coats.  
Ladies, what are your favorite coats for work? How many do you have; which ones do you think are the most professional-looking, which are the warmest, and so forth? Have you recently bought any coats for work you love? 
Some Recent Picks for Great Wool Coats for Work
Some of our favorite latest trendier coats (as of 1/12/21):

Readers turned me on to Lands' End coats years ago, and I have to say every one I've gotten has been warm, well made, and super affordable. (This $33 Primaloft jacket is my go-to for weekend wear.) This luxe car coat looks a bit more dressy than their down options, though, and at $199 it's one of the most affordable options. (You can certainly buy cheaper coats — but it's hard to find a budget coat that is actually warm.) Along similar lines, LL Bean has had this Polo coat around for years; right now it's $189-$259. The pictured coat comes in five colors, with size options for petite, tall, plus, and regular sizes 2-16. For $20 more ($219) you can get the "warmer" option, which is recommended for wear from -10º to +15º Fahrenheit (the basic option is only good from +5º to +25º Fahrenheit). Pictured: Women's Luxe Wool Car Coat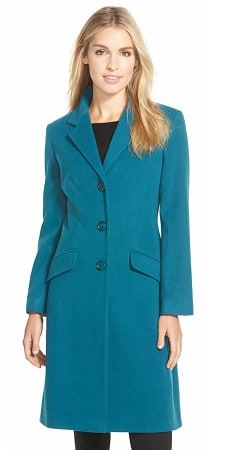 If you're looking for a more fashionable coat, I'd start by checking out the Helene Berman line of coats that Nordstrom carries. They're colorful, of-the-moment shapes, and it's hard to find a more affordable wool/cashmere blend. The pictured coat is on sale; it was $348 but is now marked to $260; it's available in teal and orange, sizes XS-XL; this light blue coat is also cute, a wool/cashmere blend, and on sale. Pictured: Helene Berman Shaped Wool Blend Coat
I was surprised to see numerous commenters mention this coat in a recent(ish) discussion on their best splurges — it looks great for the city and beyond. I like that it has a sleek look about it that is still bundled up, and I like that Patagonia is such a stalwart in environmentally/animal friendly products. (Also similar: this North Face 3 in 1 coat. Along these lines: if you're into outdoor activities but don't want the bulk, this Outdoor Research parka is on a great sale; the WSJ featured it in December in its article on the Warmest Winter Coats.) The pictured parka is $529 at Nordstrom, available in black and gray; a few sites (CampSaver, Rugged Outdoors) have an oxblood/pink version on sale for as low as $370; Nordstrom has a similar 3-in-1 Patagonia coat for $370. Pictured: Patagonia 'Tres' Waterproof 3-in-1 Parka
If you pay attention to the flash sale sites, you can sometimes find sales on Cinzia Rocca coats — I got one at Ideeli years ago for what seemed like a steal. Full price, the coats are over $1000; Nordstrom has some on sale right now, including this fabulous dark red number, marked from $1195 to $799. Pricey, to be sure, but the coats are warm, well made, and stylish. (Another good name to know in this price range: Fleurette, which I've drooled over for years now; this car coat is 40% off at Nordstrom.) The pictured coat is available in regular and petite sizes, in plum, black and sand, sizes 2-16, for $799. Cinzia Rocca DUE
Funnel Collar Wool Blend Long Coat
You can't really do a roundup of coats without talking about Burberry, even if they are most well known for their trenches. I love the military vibe to this wool and cashmere blend; the high neck also looks like it would keep you nice and toasty. It's $1,495 at Nordstrom, available in sizes 4-14. Burberry London 'Basingstoke' Wool & Cashmere Coat
Like this feature? Check out other recent installments!