Sure, we all know what basics professional women are supposed to have in their closets, but if you're buying one for the first time or replacing one you've worn into the ground, it can be a pain to find exactly the right incarnation in stores. In "The Hunt," we search the stores for a basic item that every woman should have.
Readers, which are your favorite coats for work outfits? Do you prefer wool — or down? (We've JUST done a roundup of machine washable coats over at CorporetteMoms, so check that out if that's your jam…)
It may seem a bit silly to talk about stylish coats for work — after all, when it's freezing, nasty, and disgusting outside, being warm and dry are the primary considerations.
But it isn't blizzarding every day in the winter, and I still think a wool coat looks more polished — even if you're just throwing it on over your work-from-home clothes to run errands.
Shop for a winter coat that covers your thighs (for warmth, as well as the most versatility — nothing looks quite so silly as a peacoat and skirt), and be sure to size up if you need to to accommodate a sweater or blazer underneath your coat.
(Other great layers: silk turtlenecks and long johns can add serious warmth without bulk, and there are so many puffer/fleece vests that I'm kind of tempted to try them under my winter coat on really cold days.)
I've always considered a wool/cashmere blend to be the best (the cashmere makes it warm; the wool makes it durable), but I've also heard great things about alpaca's warmth; these days you can find technical enhancements to wool or find wool lined with Thinsulate, like some J.Crew and L.L.Bean coats.
What are your favorite coats for work? How many do you have; which ones do you think are the most polished, which are the warmest, and so forth? Have you recently bought any coats for work you love?
Admin Note: Please note that we're trying a new thing where we're updating older Hunts with entirely new content (there are SEO benefits). At the moment we're keeping the older comments instead of deleting them all; let us know your thoughts!
Some Recent Picks for Great Wool Coats for Work
Great Plus-Size Coats for Work

Trendier Coats for Work
There are a ton of fun trendy winter coats for work in this year's 2023 Nordstrom Anniversary Sale: these are our favorites!

Great Washable Winter Coats
Pictured above: favorite washable winter coats as of 2022! Note that any faux fur hoods should be removed before washing. gray* / purple* / gray* / black* / green (* = available in plus sizes) (also, of course, the viral Amazon coat)
Some Particular Favorite Coats for Work Outfits
This reader-favorite coat from Eddie Bauer is technically more of a raincoat, but it does come in an insulated version for just a bit more. It's also one of our top picks for machine washable coats. It's available in regular, petite, plus, and tall sizes, and regularly goes on sale for 35% off (or more).
J.Crew's coats are always super popular — and if your favorite style goes out of stock don't forget about J.Crew Factory, which often carries more styles from the archives at a discounted price. We've pictured the "City Coat" in a red — it's $238 new and comes in a ton of great colors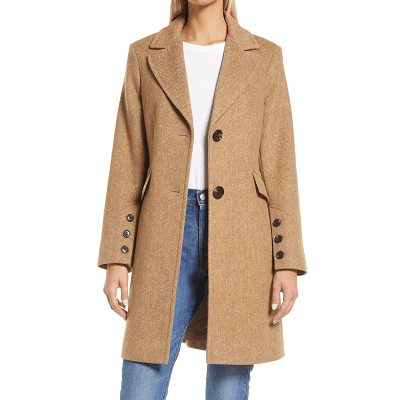 Another great coat in the $240 range is Sam Edelman's super popular wool coats. There are slightly different variations with buttons and details every year, but it remains a bestseller. You can find it in regular and plus sizes at Nordstrom — and don't forget to check Nordstrom Rack for bargains.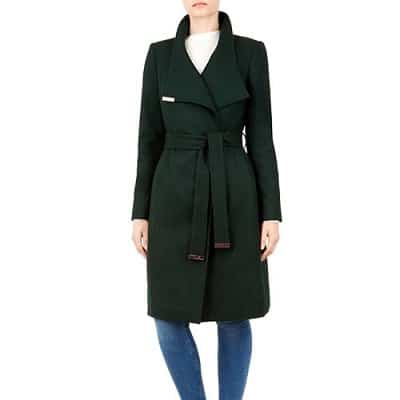 If you're hunting for an amazing, stylish, warm coat for work, definitely take a look at Ted Baker — the above style is pretty much a classic at this point, although the name may change.
The coat only comes in sizes 0–10, but if those sizes work for you there are a ton of great reviews at Bloomingdale's, Nordstrom, and Ted Baker, particularly singing the praises of the floral lining and the magnetic detail at the wrap top to keep the coat closed.
Other really stylish coat brands to look at in this $400–$700 range: Boden, Reiss, Soia & Kyo, and Dawn Levy.
If you're looking for a really quality cashmere-blend coat, I have two brands to recommend: Fleurette and Cinzia Rocca. Both are generally under $1,000 (so, less than the designer brands) but are really established, quality brands — and you can sometimes find them for around $600. (Cinzia Rocca used to have a plus-size option called Cinzia Rocca Due, if memory serves; you may still find that on some sale sites.)
Readers, which are your favorite brands and styles for coats for work? Do you prefer wool, down, or other options?
Like this feature? Check out other recent installments!