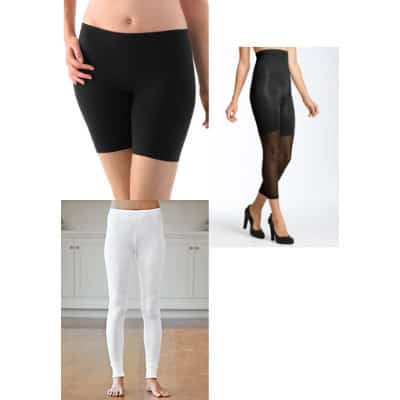 2020 Update: We still stand by this advice on what to wear beneath unlined suit pants — but you may also want to check out our newer discussion of warm women's dress pants for the office.
What do you wear under pants and suits that are unlined? Are you for or against the current trend of unlined clothing? Reader K wonders:
I have a question I was hoping you could address. As a slim, athletic woman I love Theory suits because they fit me like a glove. However, I'm peeved that the skirts and pants are unlined — which has already been noted on your site. I've found a number of slips that I can wear under the skirts, but I'm having trouble finding something to wear under the pants. All I've found is super-tight shapewear that feels uncomfortably tight at the waist, especially when sitting. Do you have any suggestions?
Great question, and I'm curious to hear what readers say. (We've already talked about how to reduce static cling in general.) For my $.02, I'm actually in favor of the move toward unlined pants, for a bunch of reasons. First, I often would find that the lining of my suiting clothes would be the first part to break down, sometimes even shredding — it really decreased that confident feeling of "I look put together today."
(Maybe I'm alone here, but if my underpinnings are in poor shape, no matter what else I'm wearing, everything else feels raggedy too!)
Plus, the lining was often a cheap polyester — so while the pants or dress were washable, the lining wasn't. (OR, the lining would need to be laundered way before the rest of the pants needed a wash.)
Also, as someone who often needs to get pants hemmed (yay for being between regular and petite sizes), the lining in pants was just another layer to hem.
(Related — and our social media picture — you may want to check out our most recent roundup of the best pants for work!
This post contains affiliate links and Corporette® may earn commissions for purchases made through links in this post. For more details see here. Thank you so much for your support!
A few options for you to wear underneath unlined suit pants:
1. Wear Silk Long Johns Under Unlined Suit Pants, in Winter at Least
I've said it before, I'll say it again: I love silk long johns in the wintertime. I just bought some non-silk ones from a major retailer and they're going back because they feel super heavy and bulky compared to my silk ones.
I've bought from Wintersilks for many years, but I've also found them at discount stores like Century21 — just look for a lightweight silk. It blocks the winter wind without retaining too much heat once you get inside, so they're comfortable to wear — and the very lightweight nature means they don't add bulk.
Wintersilks has them in multiple lengths (shorts, capri, and full), so you have a lot of choices.
Readers love this comfortable layering short instead of slips!
2. Wear Jockey Skimmies Under Unlined Suit Pants
Readers love Jockey Skimmies as nonbinding shorts under skirts in the summertime, and many have mentioned loving them under pants as well.
Yes, this is only half your leg — but how much do you really need your lower leg to be lined? A lot of readers mentioned liking the silky slipshorts for eliminating VPL, but I also note that the brand has a new "antistatic" version as well.
3. Other Ideas for What to Wear Beneath Unlined Suit Pants
Spanx. It doesn't sound like this is for Reader K — and honestly I find the full-length Spanx to be too binding as well — but a lot of women LOVE their Spanx. I've even heard of women wearing them under yoga pants!
Regular pantyhose. Personally I prefer any of the above options because the static cling can be worse with regular pantyhose, but a lot of women do this (or wear tights), particularly during winter months.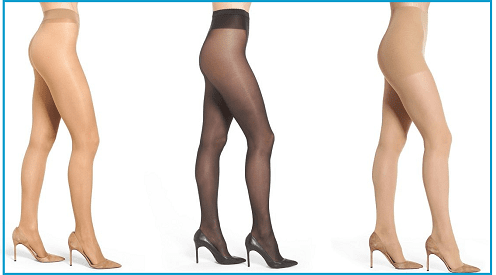 2023 Update: Hunting for pantyhose for work? These are some recent reader favorites! one / two / three
Ladies, what do you wear under your unlined pants? Do you prefer lined pants, or not?
Psst: Below, some of our favorite no-show women's underwear as of 2021 — if you're definitely looking for thongs try Commando, Hanky Panky, or Under Armour! Pictured: one / two / three / four (not pictured but also: Soma!)