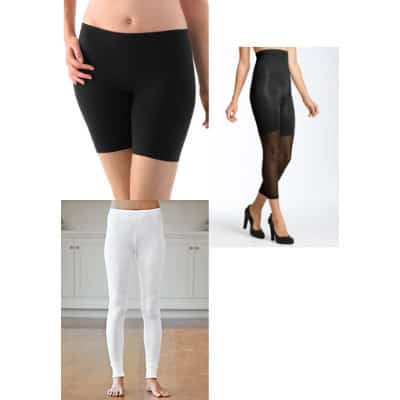 2019 Update: We still stand by this advice on what to wear beneath unlined suit pants — but you may also want to check out our newer discussion of warm women's dress pants for the office.
What do you wear under pants and suits that are unlined? Are you for or against the current trend of unlined clothing? Reader K wonders:
I have a question I was hoping you could address. As a slim, athletic woman I love Theory suits because they fit me like a glove. However, I'm peeved that the skirts and pants are unlined — which has already been noted on your site. I've found a number of slips that I can wear under the skirts, but I'm having trouble finding something to wear under the pants. All I've found is super-tight shapewear that feels uncomfortably tight at the waist, especially when sitting. Do you have any suggestions?
Great question, and I'm curious to hear what readers say. (We've already talked about how to reduce static cling in general.) For my $.02, I'm actually in favor of the move toward unlined pants, for a bunch of reasons. First, I often would find that the lining of my suiting clothes would be the first part to break down, sometimes even shredding — it really decreased that confident feeling of "I look put together today." (Maybe I'm alone here, but if my underpinnings are in poor shape, no matter what else I'm wearing, everything else feels raggedy too!) Plus, the lining was often a cheap polyester — so while the pants or dress were washable, the lining wasn't. (OR, the lining would need to be laundered way before the rest of the pants needed a wash.) Also, as someone who often needs to get pants hemmed (yay for being between regular and petite sizes), the lining in pants was just another layer to hem.
A few options for you to wear underneath unlined pants:
Ladies, what do you wear under your unlined pants? Do you prefer lined pants, or not?