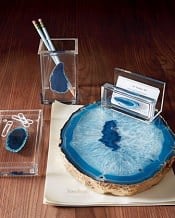 Oh yeah. I like these… a lot. So much so that I almost don't want to post them so I can stalk them until they go on sale. I love the agate (I'm all about the agate right now), the clear plastic, and the general functionality of all of the pieces (except for the platter, which seems really large to be either a coaster or a paperweight, but that is me). Lovely. The pieces are $62-$360 at Bergdorf Goodman. Rab Labs Eiro Desk Accessories & Travessa Platter
I haven't seen any similar and more affordable desk accessories, but here are two similar bookends.
Dec. 2015 Update: These exact products have sold out, but here are a few similar agate desk accessories, pictured below. You can also check out all Rab Labs items still in stock at Bergdorf's, here. 
More Agate Desk Accessories