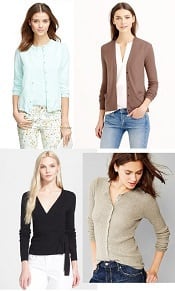 2020 Update: We still stand by this general advice on how to find seasonless sweaters for the office — but you may also want to check out our more recent discussion of what to wear to work in the summer!
Is there a magical sweater you can buy that is seasonless — great for summer, great for winter, looks luxe, and retains its shape? In general, what do you look for in summer sweaters? Reader N asks:
It seems that many dresses are sleeveless or cap sleeved, and I am always searching for the right coverup for work. To that end, can you recommend a simple, well made light black cardigan? It seems that every single one I've purchased the last few years looks cheap and out of shape after more than a few wears.
We've haven't done a hunt for black cardigans for a while — maybe soon! (Note that both the J.Crew one and DvF one, below, come in black, as does August Silk.) When it comes to shapeless sweaters, I haaaate cotton sweaters for that reason. If it's a lightweight cotton sweater, it looks shapeless after just a few wears in the summer, and when I wash them I can never get them to look quite as nice as they first did on the rack. If it's a chunkier cotton sweater in the winter, it's the same thing — a misshapen mess. Wool is too heavy to be seasonless (although merino wool sweaters are often great purchases), and cashmere can be too expensive or delicate to throw into your bag and survive. So what's a girl to do?
Psst: check out our updated Guide to Cardigans!
My favorite type of sweater for retaining shape — and being a great layering piece year round — is the silk cardigan. It holds its shape. It blocks the wind. It's easy to throw around your neck and shoulders for a summertime commute and a freezing office (just button it first, otherwise it looks less like a preppy sweater and more like a cape). It's just as easy to throw around your neck as a scarf/additional layering piece in the fall when you're not quite sure how cold it's going to be outside (or how blazing the radiators will be inside). In my experience, a silk cardigan is easily washed in the machine; doesn't look too worn, too quickly; and doesn't snag as quickly as polyester. A few tips:
Look for 100% silk — if it's blended with linen, wool, or cashmere, it won't be as seasonless. A silk/cotton blend can be all right — it may make it more washable — but the higher the cotton percentage, the less it'll hold its shape.
Avoid less than full-length sleeves — if you want a sweater to truly be versatile you want to avoid sleeves that are too short to tie around your shoulders in the summer. You can still do it with 3/4 length sleeves, but a sweater with ballet length sleeves will get shoved in your bag.
A few options on the market right now (pictured at bottom):
Ladies, what are your favorite sweaters to wear to work in the summer? What do you look for when buying one? Do you find one color (black, white or cream, for example) tends to get more wear than others? How do you buy seasonless sweaters for the office?