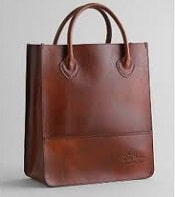 A reader tipped us off to this gorgeous leather tote, but it wasn't until we saw
Shopping's My Cardio
post that we realized:  this tote is just the start of things to come. LL Bean is launching a new signature line, and this tote is among the first pieces available for sale. What can we say? We'll be eagerly waiting to see the rest of the line — and in the meantime, drooling over the tote. It's $189 at LL Bean.
Bean's Heritage Tote
2016 Update:
While the heritage tote is sometimes still available through
eBay
, you can also find a similar tote
here
or
here
.