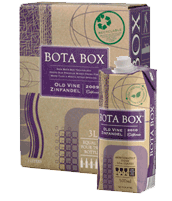 Where to start? I'll start many moons ago, in college, which was the last time I drank boxed wine. (And even then I only used the wine as a component of punch.)
Cut to a few weeks ago at Thanksgiving, when my aunt — quite the oenophile — showed up at the family party with a Bota Box. We thought it was a gag until we tasted it: it was really good!
The eco-friendly box houses the equivalent of four (count 'em, four) bottles of the award-winning wine — so when I saw it at my local Brooklyn liquor store I had to rub my eyes: was the price really $22? Wow.
I'd bring it to a friend's party, yes in part as a gag gift, but also as a great value for a tasty wine. The Bota Box website has more information on where it's sold.
Workwear sales of note for 12.7.23
Our favorites are in bold!
Some of our latest posts here at Corporette…
And some of our latest threadjacks here at Corporette (reader questions and commentary) — see more here!