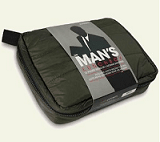 A while ago, the good folks at Koko were kind enough to send me some of their lunch bags. They have a number of very fashionable bags that look like satchels or totes, but inside they're insulated. My favorite thing they sent me, though, was this square little lunch box, which they apparently market as a "man's" lunchbox. I think it's great, and that the uniform, flat size makes it much easier to pack in a larger tote. This baby is $14.99 at Amazon.
Koko FreshPocket Insulated Man's Lunchbox
(L-2)
Please note that all product reviews must comply with The Corporette Review Policy.