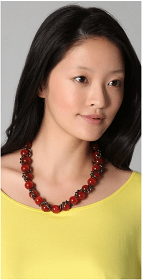 I always love the accessories at ShopBop, and they're always what I hit first when ShopBop has some of its legendary sales. This marble necklace is only 30% off, but the bright red marbles and the interwoven chain make a great statement piece for the office. I particularly like the one marble hanging from the clasp in the back. It was $135, but is now available at ShopBop for $94.50. tuleste market Short Woven Marble Necklace
P.S. Note that Max & Chloe has it in purple as well, although at full price.
P.P.S. Just noticed the Anthropologie Semi-Annual Clearance Sale is on right now — lots of cute accessories there, too.