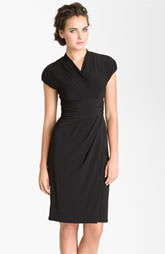 2017 Update: We still stand by this advice on what to wear to officiate a wedding — links have also been updated below.  
What should one wear if you're officiating a wedding? Reader W has a unique question, so I thought I'd tackle (even if it is a bit farther than our usual topics)…
I suppose because I'm an attorney and all-around upstanding citizen, I've been asked to officiate the wedding of a very good friend this summer! I've actually performed one wedding already and I wore a somber black suit that was appropriate for the occasion. However, this time around the wedding and reception will be held during the day at a Northeast yacht club in July (meaning WARM) and the dress code is more of a summery semi-formal. Probably not a black wool suit occasion! I was hoping for your advice on what would be appropriate dress. Naturally, I've asked the bride what she thinks and was no help at all ("Wear whatever you want!"), but I still want to be respectful of the bride with NO possibility of upstaging/distracting and taking into consideration I will be feature in the ceremony photos. My initial thoughts are no wacky colors, sleeves or a blazer which can be removed after the ceremony, and minimal accessories. Does this mean I should wear a shapeless beige sack? Your thoughts would be greatly appreciated!
First, congratulations; I think that's quite an honor. I might first ask what the wedding colors are, and if the bride wants you to work within those parameters. Here are my tips:
1) Wear black. Here in NYC, most women wear black for everything, including weddings, but I know in other parts of the country it's poor form to wear a black dress to a wedding.  I'd talk to the bride about it if you feel uncomfortable — considering that the groom and his men will likely be in black tuxes, it will be a nice visual for all the pictures.

2) If not black, go for a sedate, dark color. If you're really not comfortable wearing black to a wedding, think navy or gray.  You're doing something serious and studied, and I think your clothes should reflect that.  Another reason to go for a somber color: as the officiant, you should blend into the scenery. It is the couple's day, after all — all eyes should be on them when they're standing before you. Ask the bride what the bridesmaids are wearing and try to choose a color in that family — if you can get a swatch of their fabric that would be best to make sure it doesn't clash.
3) Wear a dress. This is my $.02, but you do want to be festive! If possible I would stick with a pencil or straight skirt, versus a wider, fuller skirt, but that's me. A sheath dress would be great, or the Nordstrom faux wrap dress by Suzi Chin (pictured in black above) would be a great one to wear to officiate, provided the cleavage isn't too low. (See above re: all eyes should be on the couple.) Maybe I'm crazy but a knee-length dress sounds better than a floor-length dress, but the bride will know better.  If the bridesmaids are wearing shorter dresses, I would particularly consider a knee-length dress.
2017 Update: Unfortunately this faux wrap dress by Suzi Chin is now sold out — this best-selling Karen Kane dress has a similar vibe and is very affordable.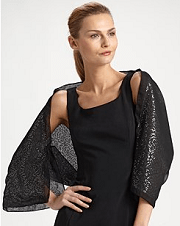 4) Consider a sparkly wrap in a matching sedate color.  This can be a great investment, as you can reuse it for black tie events — but this way if you have a sparkly wrap with you and feel underdressed, you can wear the wrap around your shoulders. Consider a sparkly or satiny wrap .
5) Wear a pair of sparkly shoes.  If you're wearing a sedate dress, your accessories can be a bit more on the fun side — sparkly shoes that you can dance in will be fine.
6) Don't wear satin or other bridesmaidy type things.  Maybe I've been a bridesmaid too often, but I always think of the bridesmaids and groomsmen as being the couple's best drinking buddies.  That is, of course, a high honor as well — but as the officiant you should be a bit more than that.  More serious, more reserved, more respectable.  In other words, no shots until after the wedding ceremony.
If none of this sounds right, think "mother of the bride" type dresses.  I went to one wedding recently where a family friend, a female judge, performed the ceremony, and she looked festive yet serious in a dark navy or black MOB-type sheath dress with a sheer beaded jacket.  For your money, I think you'll get more mileage out of a simple non-MOB sheath dress plus some great accessories (as recommended above), but it's up to you.
I'm curious, readers — what would you wear to officiate a wedding?  If a girlfriend were officiating your wedding, what would you want her to wear?
Picture below via Stencil.