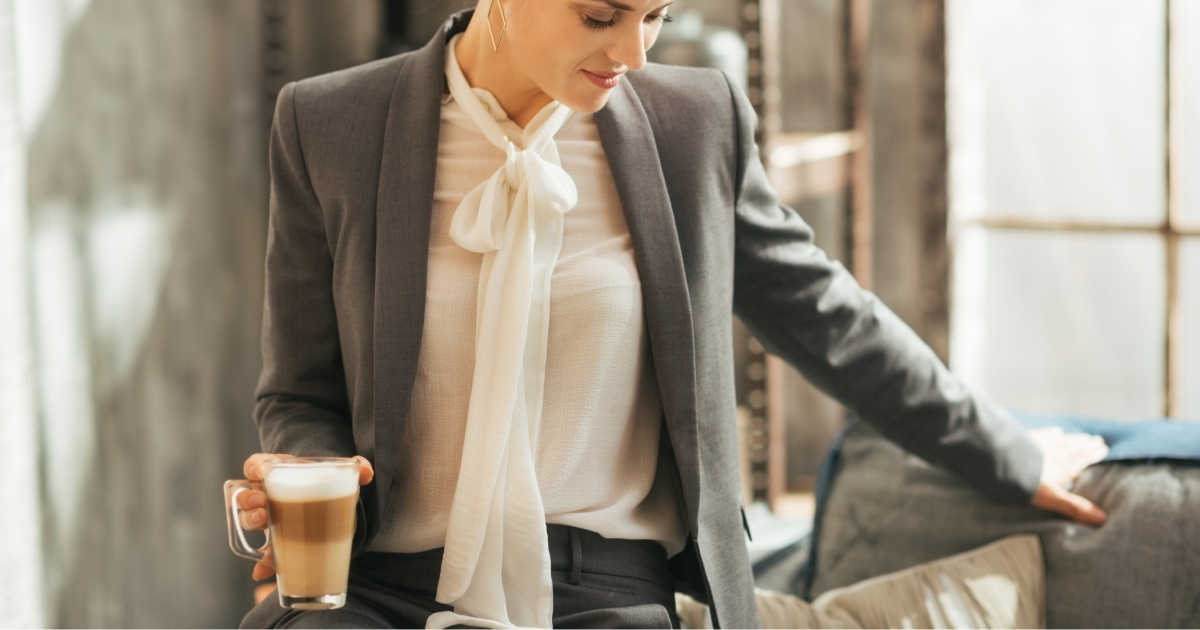 This page was last updated September 2023 except where otherwise noted.
Today, Reader C has an interesting question about "color rules" for suits — specifically, what colors you can wear with a gray suit…
I recently bought my first suit from BR (thanks to your post!). I plan to wear it a huge conference that the nonprofit where I work is organizing. At the store, I was trying to choose between getting a black suit or a light gray one from the same collection. The sales associates asked me what shirt I was planning to wear with my suit – I told them it was a dark navy silky top that I was wearing at that time.

Immediately, both of them said I should get the black suit because the navy would be too dark for a light gray suit. They said the gray suit should be worn with lighter colors. I did settle on the black suit but it's because I thought I can wear it with light and dark colored tops. However the associates' reaction got me wondering – are there rules about matching shirts with suits that I don't know about? I thought a black suit with a white shirt is classic but perhaps I am outdated.
Maybe I'm alone here, but — whaaa? The associates' advice doesn't make sense to me at all.
I mean, I would not advise someone to wear a navy blouse with a black suit unless I'd seen it first to make sure it was clearly navy blue and there was no whiff of "I got dressed in the dark and thought I was wearing all black."
But the second part — can gray suits only be worn with lighter colors? Let's discuss.
We are a participant in the Amazon Services LLC Associates Program, an affiliate advertising program designed to provide a means for us to earn fees by linking to Amazon.com and affiliated sites.
This post contains affiliate links and Corporette® may earn commissions for purchases made through links in this post. For more details see here. Thank you so much for your support!
Are There Color Rules for Suits?
I normally wear black tops with gray suits (hello, New Yorker here), as well as darker jewel tones. In summer, I do like to wear them with white or a bright yellow (it works!), but that's me.
In fact, personally, I would wear the following with a black suit: any color of the rainbow, including black. (Subject to the the above caveat about making sure the navy is clearly blue and not so close to black that it looks like you didn't know when you got up in the morning.)
I'm a fan of wearing multiple colors at once — by which I mean that if I wore a red top, I might try to wear a turquoise necklace, or perhaps a pair of purple pumps, to add some visual interest to the outfit — but that's just my general sense. I also tend to avoid wearing white with black — too waiter-like — but that, again, is a weird predilection — I certainly wouldn't say that someone was wrong to do that.
What Colors I Would Wear With a Gray Suit
I would wear the following with a gray suit: Yep, pretty much any color of the rainbow. I've worn pastels with gray suits (I'm a fan of a yellow with gray in particular), but I've also worn a lot of black, blood red, mallard blue, etc.
The only "rule" I can possibly think of is that a lighter gray suit is probably going to be a spring/summer item, whereas a charcoal suit is going to be a fall/winter item — but I think ultimately it comes down to fabric. If you have a light gray tweed suit, it's a fall/winter item, no matter what color the gray is.
Maybe I'm crazy, though (I'm having that kind of a day!), so let's take a poll.

Have I totally missed some "suit color rules"? Readers, please weigh in…
Some Of Our Latest Favorite Gray Suits for Women
Some Great Examples of How to Style a Gray Suit
Wear Your Gray Suit with Neutrals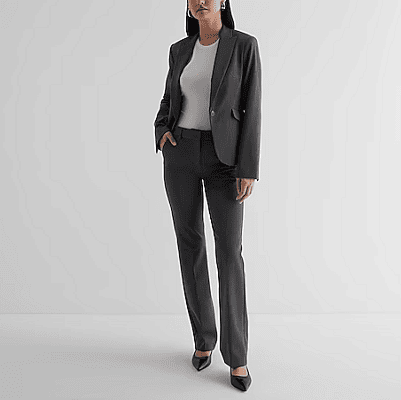 These looks can be boring, SURE, but I feel like you're solidly avoiding the "I might be a federal agent" problem you have with black suits and white blouses, as well as the "I might be a flight attendant or pilot" problem you sometimes get with navy suits.
Wear Your Gray Suit with Pastels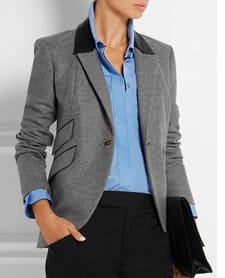 Gray suits go really well with pastel colors — it's a wonderful way to freshen up your wardrobe for spring.
Wear Your Gray Suit With Prints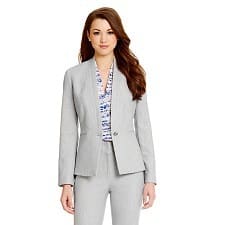 Love this light gray suit with a blue print blouse!
Wear Your Gray Suit with Daring Colors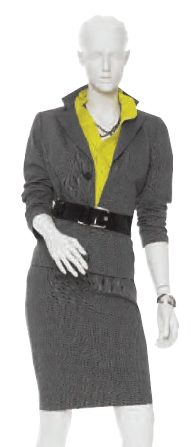 This older suit isn't the *best* example, but you can see how weird colors are surprisingly good with gray — such as the chartreuse blouse pictured here.
How to Wear Your Gray Suit as Separates
Wear Gray Suit Separates With Other Neutrals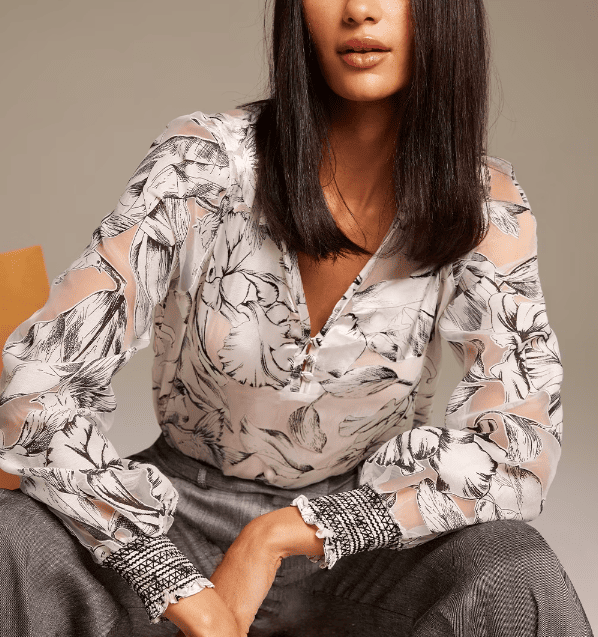 For example, the blouse above is primarily white and black with sheer details that give a pinkish effect — and it looks great with gray suit pants!
Wear Your Gray Blazer with a Black Top and Black Bottoms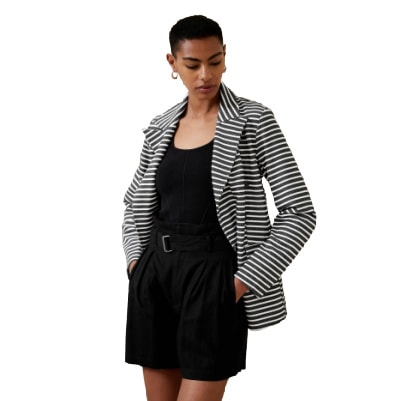 Gray blazers can easily be mixed and matched with other pieces (be wary but you can even do this with other suiting pieces). The "column of color" look is a classic one — black bottom, black top, gray blazer on top.
(You can also do this with a colorful "column," and you can also do it with dresses!)
Wear Gray with Other Shades of Gray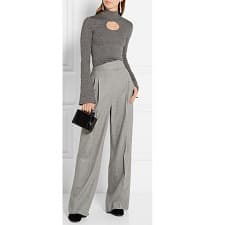 This can be a really sophisticated look – just pick an obviously different shade of gray so you don't look like you got dressed in the dark. If the shades are on the similar side, make sure that the two pieces have significantly different textures. Pro tip: try another non-black neutral as your accessory here, such as brown, cordovan, or navy. (But you can also wear the shades with black accessories!)
(2021 updated images via Deposit Photos / CITAlliance. Originally pictured: Stained Glass Color Wheel, originally uploaded to Flickr by garlandcannon.)
Admin note: this post was originally written in 2011, but updated substantially in 2023 and beyond as indicated.