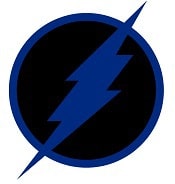 2016 Update: We still stand by this advice on how to wear black and navy togetther; links below have also been updated. You may also want to check out our discussion on what tights to wear with navy skirts!
Can you wear black and navy together?  What about a dark blue pinstriped blazer — how can you mix that with black suiting pieces?  Reader D wonders:
I scored a dark blue (navy ish) pinstripe pant suit, but then realised that pant suits don't really suit me. Which shades of blue go well with a solid black skirt? I'm afraid it might be difficult to mix and match because this is both blue AND pinstriped. Can I also wear it with a solid black dress? I've just tried that combo on in the mirror and am afraid that it might look funny. I'm hoping to use it for interviews and eventually work, in the finance industry.
Great question, reader D! We've talked about how to wear black and navy together before, but not in a long while. (We've also talked about what color tights to wear with a navy skirt, and rounded up some great navy suits for interviewing.)  I'm curious to hear what the readers think, but this has always been my rules of thumb:
All shades of blue go well with black — so long as you don't look like you got dressed in the dark.  This is really the trick — the closer the blue is to black, the more you have to wear it with intention. So how do you wear a dark blue and black — with intention?
Wear black and blue with a third color.  When I wear black I either tend to wear it with all black, or with at least two other colors — so if I were wearing a navy jacket with a black blouse, I might pair it with a charcoal skirt, or perhaps a purple necklace (or, hey, purple pumps).
Add another piece that mixes black and blue.  For example, wearing a black sheath dress, a pinstriped blazer, and adding a black and navy floral scarf can be a fun way to pick up the theme — but you want your blues to match pretty closely, so this can be tricky.  If you're not quite so bold with mixing patterns, there are many shoes or necklaces that mix the two. Pictured: a lovely Burberry scarf (a more affordable option is here).
Repeat the blue with accessories.  I would not do navy tights if you're wearing a black dress — but a watch (here's a great navy Marc by Marc Jacobs watch, or some other blue watches) or a sapphire necklace (or another blue necklace) can also show you're intentionally wearing black and navy together.  (For example — notice that the blue version of the Reiss blazer we pictured yesterday, the model is wearing the black and blue blazer, a navy blouse, and black pants.)
This is a great example where playing Closet will help you figure out what to wear with it — it may take a bit of time and effort, but hopefully it'll be fun.  If you're still not feeling confident about wearing the pinstriped blazer with black, you can always try it with a solid sheath dress of another color, such as gray, white, purple, or even a teal or green.
Readers, what are your thoughts on wearing black and navy together? What would you try to pair a navy pinstriped blazer with? 
—————
N.B. These substantive posts are intended to be a source of community comment on a particular topic, which readers can browse through without having to sift out a lot of unrelated comments. And so, although of course we highly value all comments by our readers, we're going to ask you to please keep your comments on topic; threadjacks will be deleted at our sole discretion and convenience. Thank you for your understanding!